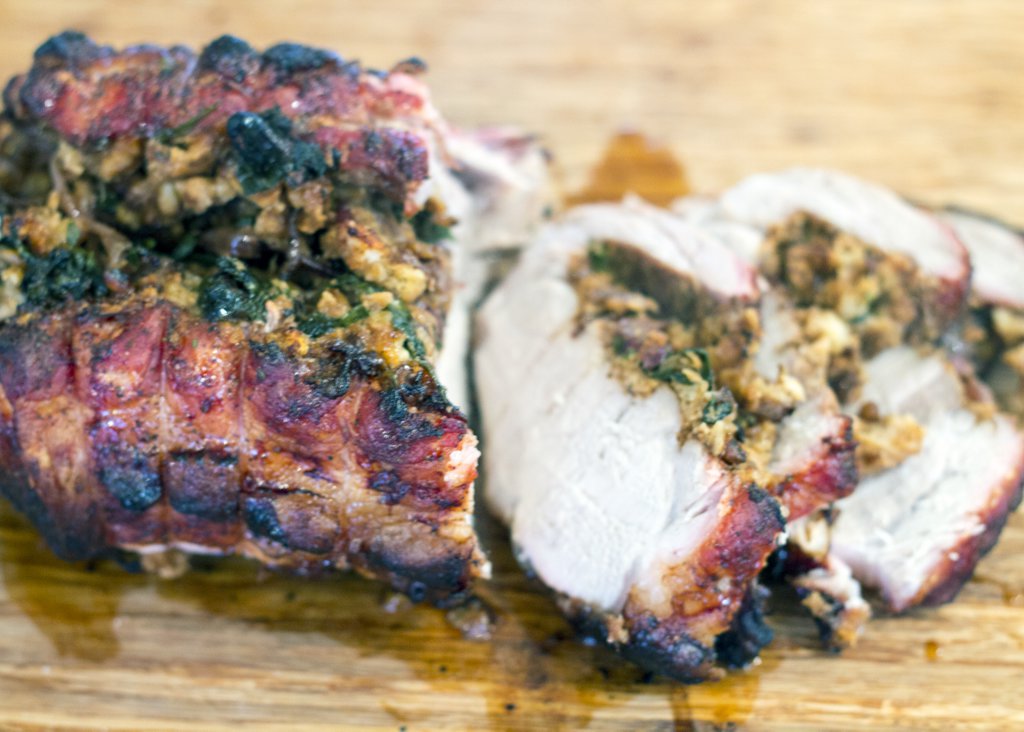 For Christmas lunch this year at our place we had a herb stuffed pork loin roast. The stuffing and pork were prepared the night before ready to get on the Weber on Christmas morning to cook in time for lunch.
We like to have a relaxed Christmas day so putting in the prep work prior to always helps. It allows time to chill out and enjoy a beer out on the deck in the sun while lunch cooks.
Prepare the Pork Loin Roast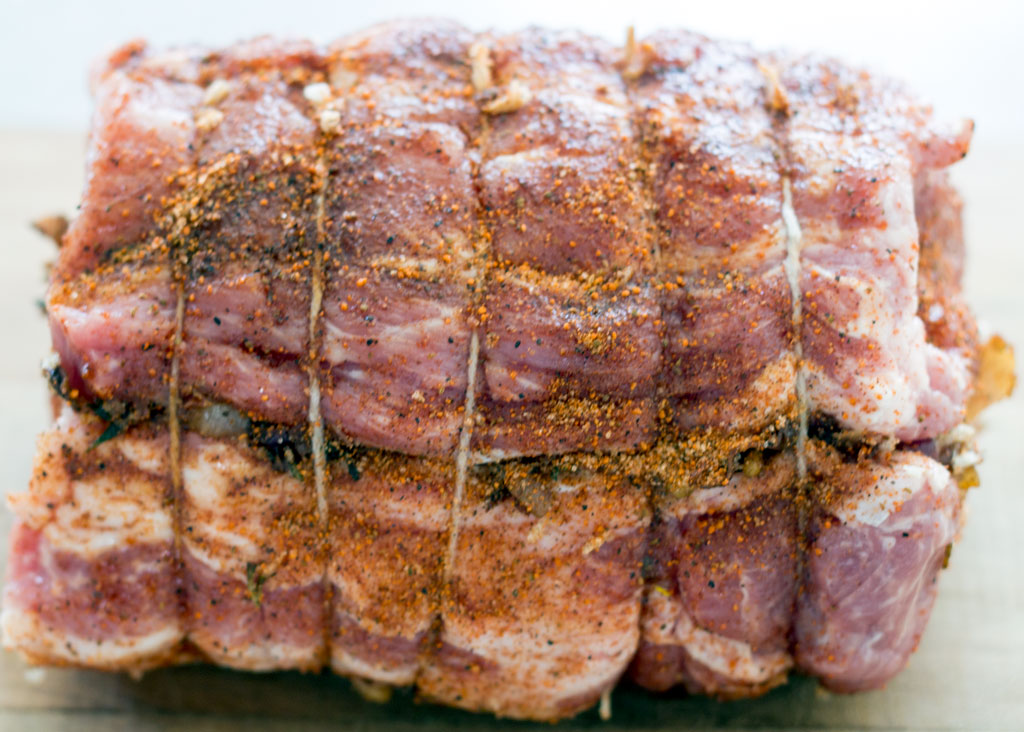 Preparing the pork is relatively straightforward. Grab a pork loin roast from your butcher. If you ask nicely they might even slice it open for you.
Trim the fat, leaving a thin layer, with a sharp knife cut through the middle so that it opens up like a book.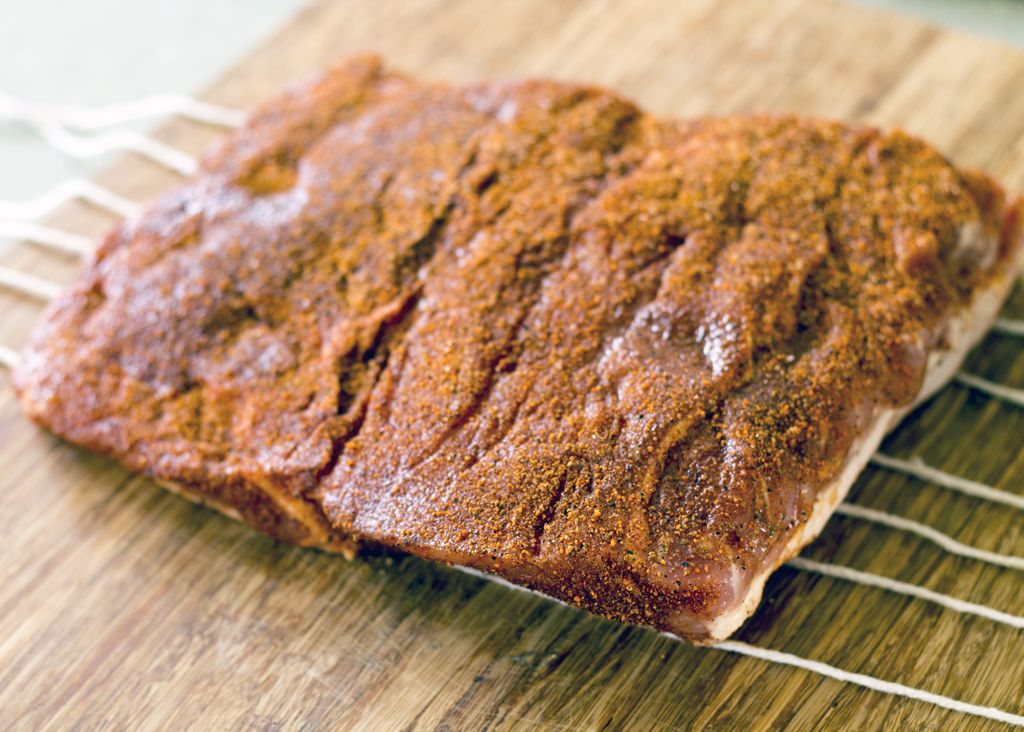 Season with your favourite BBQ rub or simply salt and pepper, set aside while preparing the stuffing.
For the stuffing fresh bread toasted works best, you can substitute with panko breadcrumbs but please only use this as a last resort.
Fresh herbs are the winner here, when cooking the onions and the herbs, be careful not to get overzealous and burn them.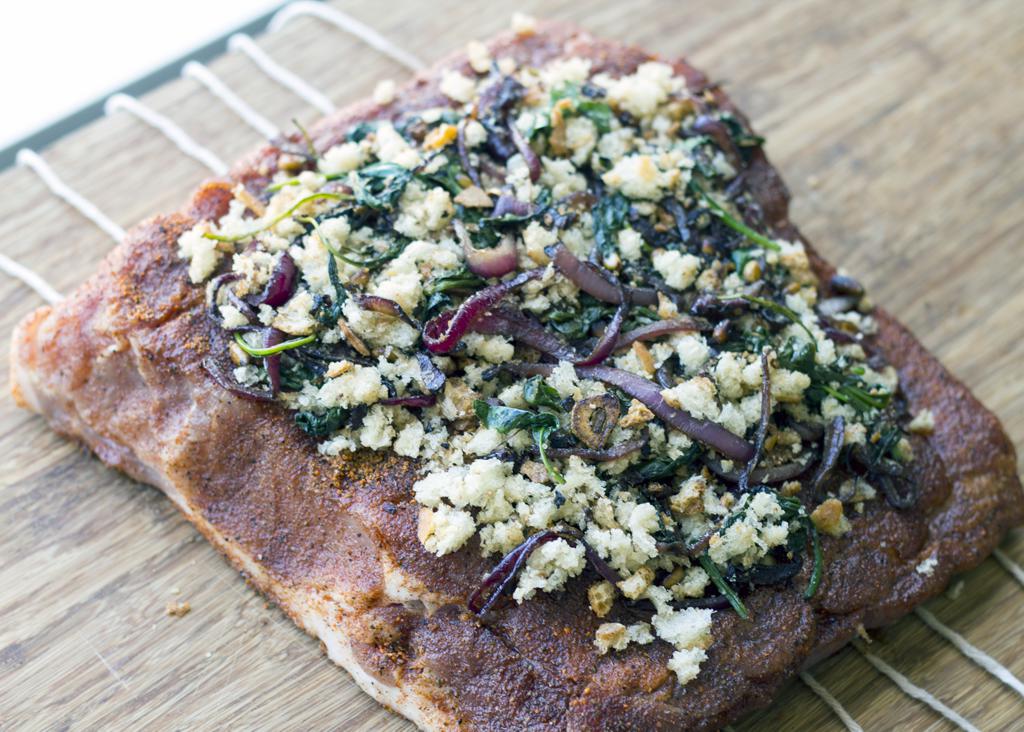 When the stuffing is done, layer onto the pork, then roll it up and secure with butcher's twine. Stuff some sprigs of rosemary in between the twine just before you throw on the grill for an extra touch.
Refrigerate until you're ready to cook!
How to Cook a Pork Loin Roast on a Weber Grill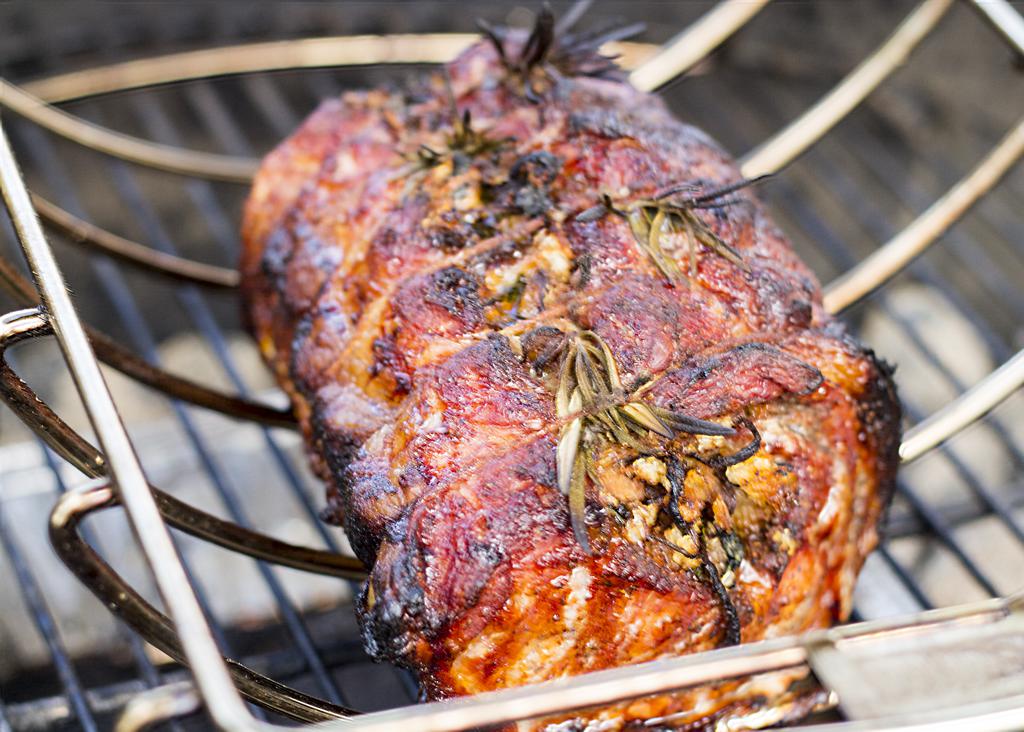 Prepare grill for indirect medium heat with a temperature of 180°C / 356°F. Place a drip tray on the indirect side next to the coals.
Place the pork loin roast over the drip tray on the indirect side of the grill, throw in a hand full of wood chunks for some smoke and let cook until the internal temperature reaches 60°C / 140°F. Depending on the size of your pork loin roast this can take anywhere between 1 hour and 1.5 hours. Adjust accordingly.
When the internal temperature is reached, remove from the grill and rest for 5-10 minutes. Remove the butcher's twine and carve, slicing to desired thickness.
You'll Need…
1.8kg pork loin, excess skin and fat trimmed and removed
your favourite bbq rub
freshly ground black pepper and salt
250 g french stick or rustic bread, sliced
olive oil
1 red onion , chopped
1 brown onion, chopped
¼ cup pine nuts
250g prosciutto, chopped
2 tbsp fresh chopped rosemary
2 tbsp fresh chopped thyme
2 tbsp fresh chopped sage
4 cloves garlic, crushed
4 tablespoons balsamic vinegar
Butcher's twine
Directions
Trim skin and fat from pork loin leaving a thin layer. Cut down the middle, but not all the way through so you can open up flat to layer on stuffing. Rub with BBQ rub or simply salt and pepper, set aside while preparing the stuffing.
Remove crusts from bread and toast in a toaster or under the grill in the oven. Crush toasted bread into crumbs and set aside in a bowl.
Heat a pan over the stovetop with some of the olive oil. Cook the onion, pine nuts, prosciutto and herbs for 5-6 minutes until the onions soften, add the garlic and cook for a further 1 minute. Turn off the heat, mix in the balsamic vinegar and move to bowl with breadcrumbs. Add the remainder of the olive oil and mix together.
Spread stuffing across the inside of the pork then roll pork over and tie together with about 5 lengths of butcher's twine. Set aside until BBQ is ready.
Prepare BBQ for indirect medium heat, temperature of kettle should be 180°C / 356°F. Add a handful of wood chunks for smoking and put pork over a drip tray in the indirect side of BBQ. Insert digital thermometer into middle of meat and cook until internal temperature reaches 60°C / 140°F.
Remove from heat and rest for 5 minutes before slicing.
Happy New Year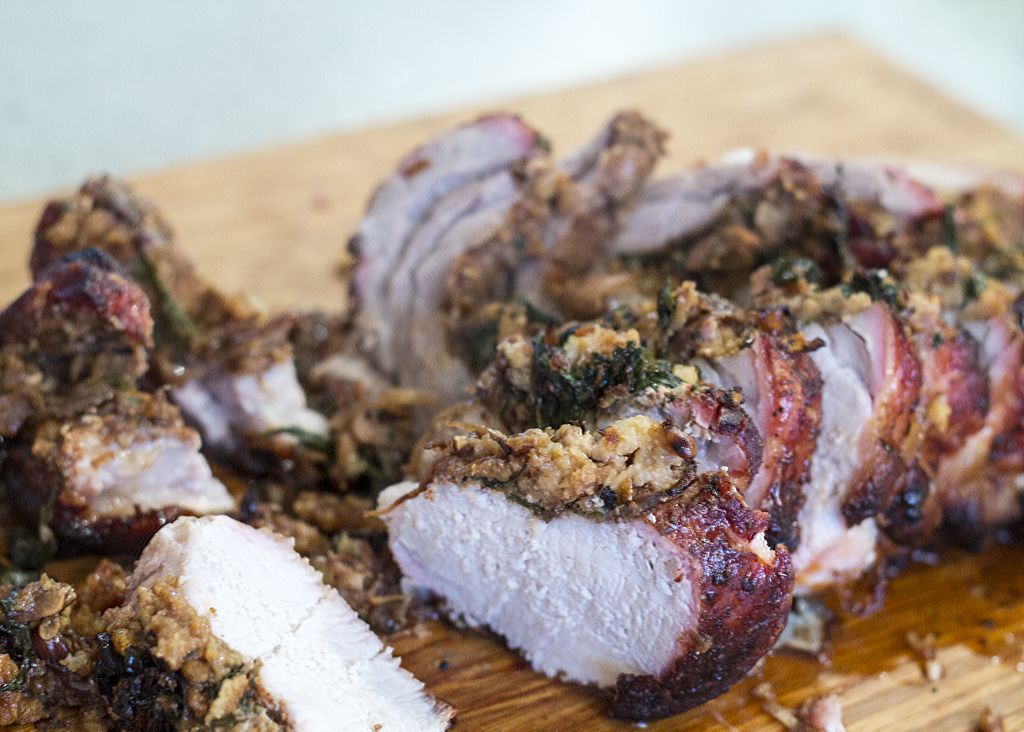 That's it from me for 2015. Have a fun and safe New Year celebration and I look forward to having you all visit again in 2016.