This is a Panhead Stout Steak & Cheese Pie, smoked and baked on the smoker and grill.
You may be familiar with the Steak & Guinness Pie, well this is like that, but better.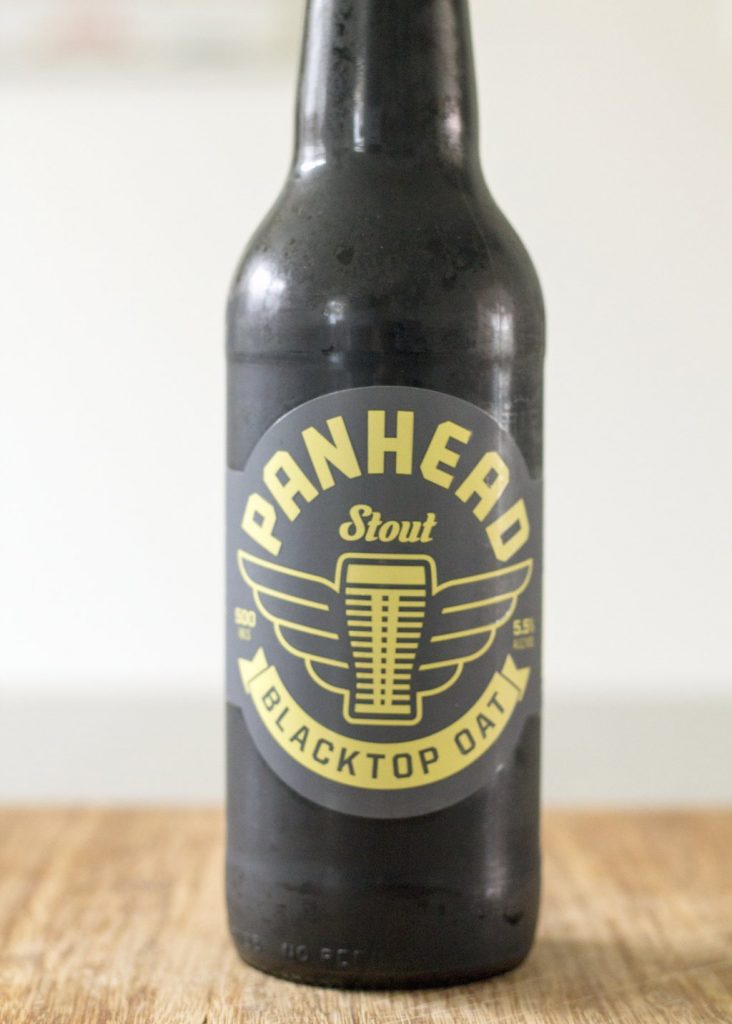 I'm not really a fan of Guinness, especially when we have great local breweries making top quality beer just down the road.
While this steak & cheese pie didn't photo too well as it's basically a stew encrusted in pastry, it tasted damn good.
Using fresh ingredients with a mix of pantry staples I opted to smoke the stew in the smoker before transferring to a pie dish lined with pastry and finishing off in the One Touch Silver.
This recipe is adapted from Chelsea Winter's "Slow-cooked steak, Guinness and cheese pie" from her first book "On My Table". While a great recipe it just needed that little bit extra. When I saw slow cooked steak I just knew that this needed the BBQ treatment.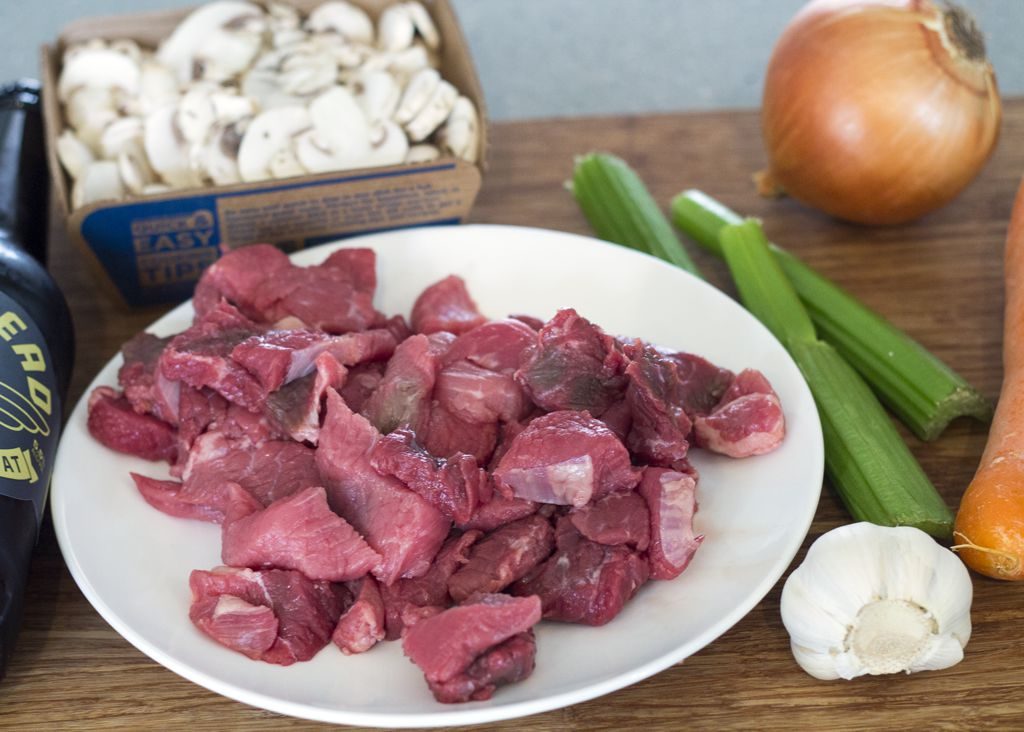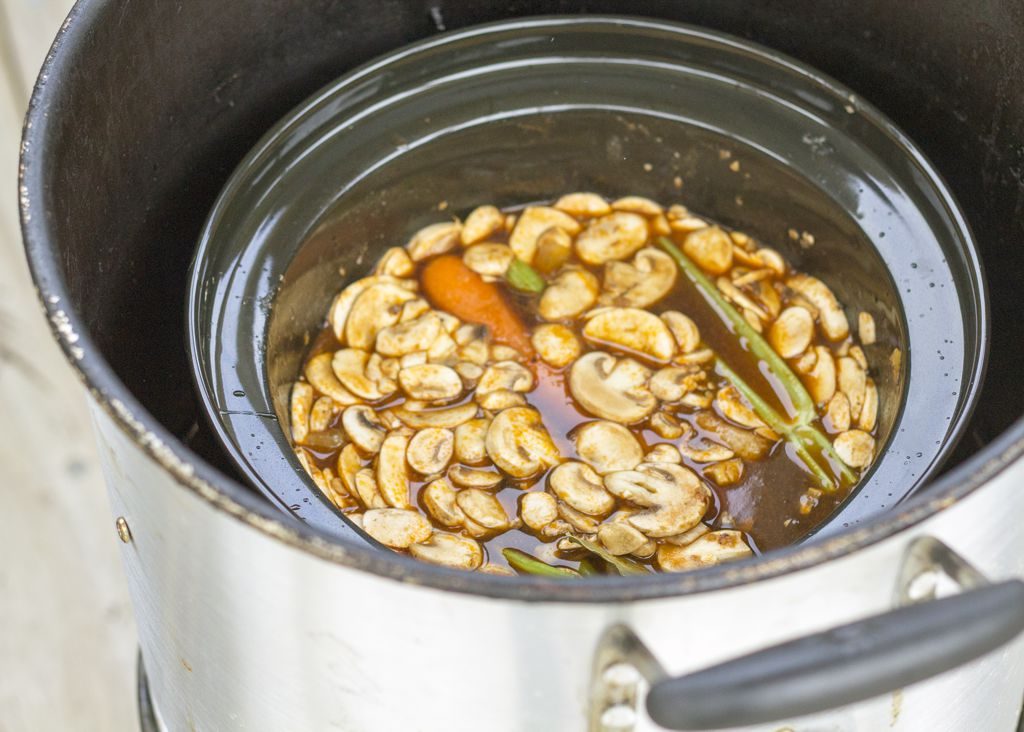 So yeah, instead of slow cooking the stew in the oven, I used the smoker at 120-140°C for around 4 hours, just enough for it to start to thicken as I didn't want it completely liquid.
After a good smoke, with a handful of pohutukawa wood chips for good measure I pulled from the smoker and let cool down while I transferred the  remaining briquettes from the smoker to the One Touch Silver and added a few more to get it going to 180°C.
Sarah found me a pie dish which I greased and layered with a few sheets of flake puff pastry (enough to wrap over the top) and then filled with the stew.  Layer on the cheese and a final sheet or two of pastry on top with a couple of holes poked in it was into the kettle for 30 minutes over indirect heat. I gave it just enough time for the pastry to turn brown.
You may find it easier to follow along at home with the oven, I don't blame you – it may not have been the most practical method, but damn it was worth it, and it just proves further that you can cook anything outside. Enjoy.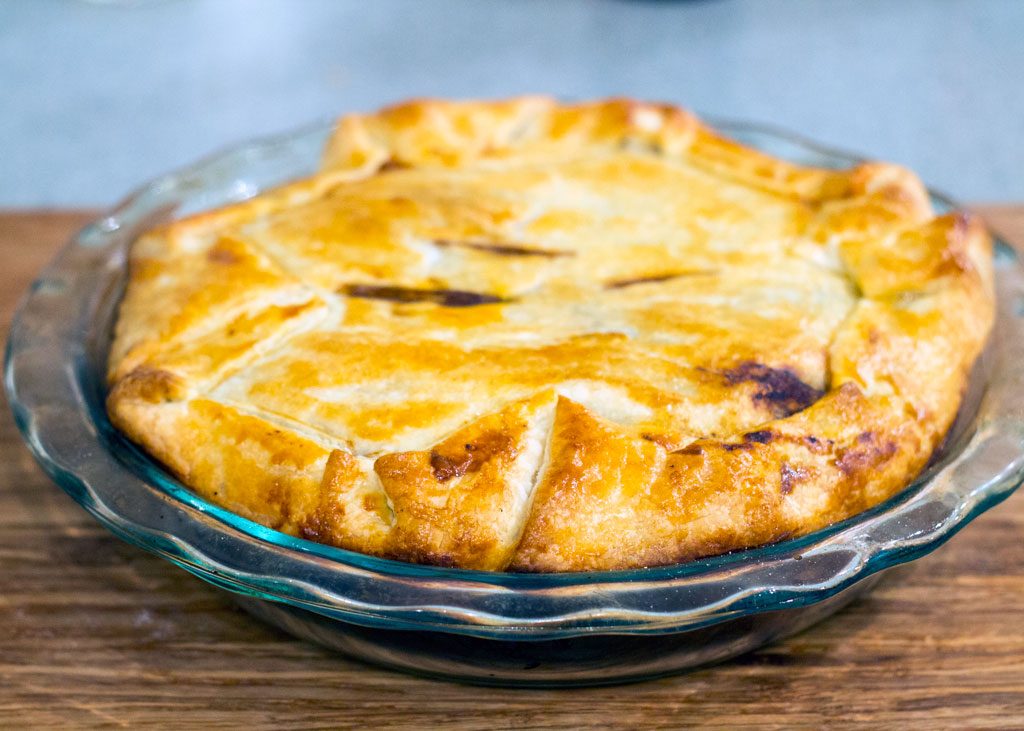 Do you enjoy a good steak and cheese pie? Would you ever try smoke and bake one on the BBQ? Let me know below!
The Panhead Stout Steak & Cheese Pie is like a Steak & Guinness Pie but better! Adapted from Chelsea Winter's On My Table
You'll Need…
2kg casserole beef (I used green meadows)
1/4 cup flour
2 tbsp rice bran oil
1 onion, diced
4 gloves garlic, crushed
2 tbsp tomato paste
3 tsp brown sugar
1 tsp mustard powder
1 500ml bottle Panhead Blacktop Oatmeal Stout (use your favourite stout)
1 1/2 cups beef stock
200g button mushrooms, sliced
1 whole carrot
1 stalk celery (I cut mine into four pieces)
1 bay leaf
salt and fresh ground pepper
6 sheets of flake puff pastry (I used Edmonds)
6 square slices of gouda cheese
1 free range egg
Directions
Fire up smoker for 120°C / 250°F
In a zip lock back place the beef and flour and shake until beef is coated.
On the stove heat a deep cast iron pan with a tablespoon of oil and brown the beef and set aside.
Add remaining oil and sweat the onion, garlic, tomato paste, sugar and mustard powder for 5 or so minutes, not enough to brown the onion.
Add the beef stock and half bottle of beer, drink the rest. Simmer for a further 5 minutes before adding the mushrooms, carrot, celery and bay leaf.
In a large pot that will fit in the smoker add the ingredients and the beef and give it a good mix (If using oven add beef back to oven proof pan) and place in the smoker and cook for 3-4 hours. When liquid has slightly thickened remove from smoker and allow to cool slightly.
Transfer fuel from smoker to kettle/grill and prepare for indirect medium heat 180°C / 350°F.
Grease a pie dish and line with pastry. Transfer the stew filling and then layer on cheese and top with another sheet of pastry, fold over and seal the edges. Don't forget to poke air holes in the top.
Lightly beat the egg and brush over pastry before placing in the grill and cook for around 30 minutes with the lid closed until the pastry browns.
Remove from the grill and serve with buttered crusty bread and tomato sauce!