When my wife is away, I will grill steak for myself. A huge 500 gram piece of rib eye steak with the bone in to be exact. Yabba dabba doo.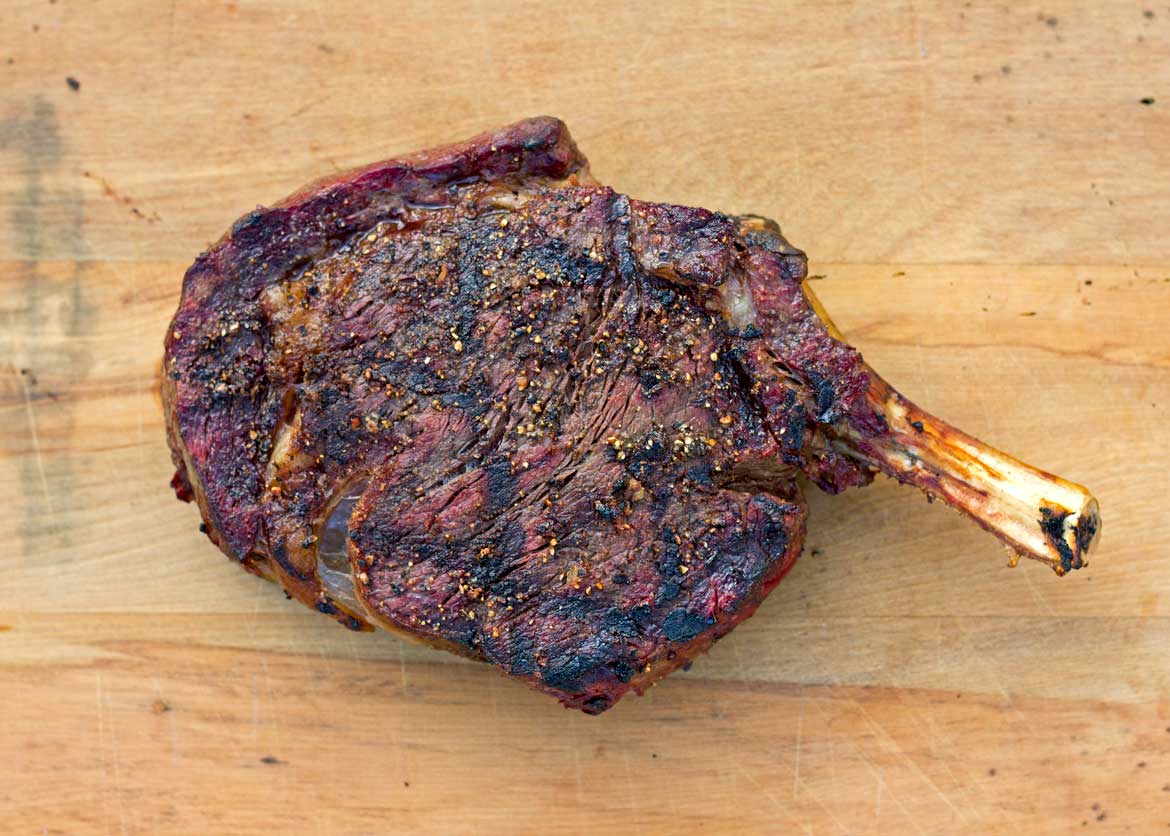 I recently got given a Weber Gourmet System with sear plate for my birthday (Thanks Michael!) and it is fantastic. It replaces the original cooking grate and replaces it with an updated (thicker) grate with hinged sides for easy access to the coals. It also allows you to swap in a tonne of add-ons such as a pizza stone, wok etc.
My favourite of course, is the sear grate.
There's nothing more primal than cooking a huge rib eye steak over flames.
Seared Rib Eye Steak Preparation
Rib eye steak, also known as scotch fillet steak doesn't need much more than a dash of olive oil along with good old salt and pepper.
I like Maldon Sea Salt Flakes and fresh ground black pepper.
Before I fire up the grill I will rub and season each side of the steak and set aside until I'm ready to cook.
Rather than oiling the sear plate on the grill I rub the rib eye steak with olive oil.
Seared Rib Eye Steak Equipment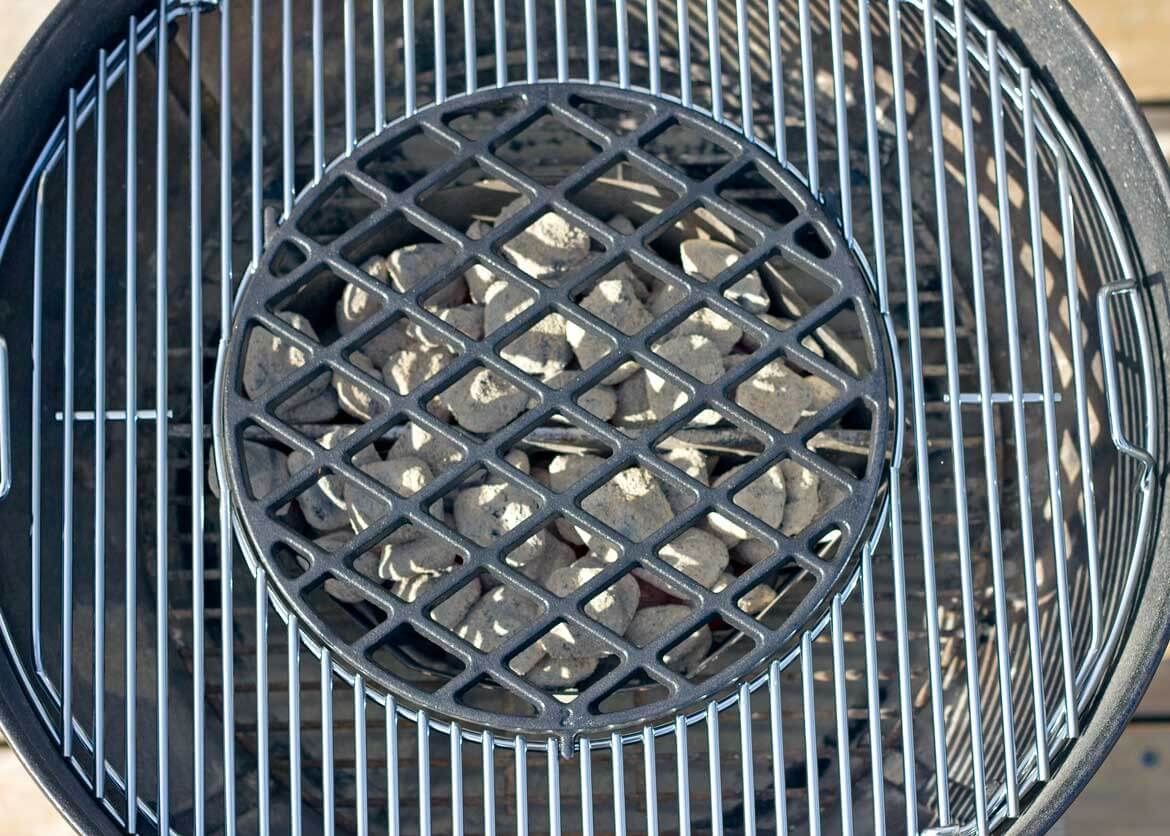 The following are Amazon affiliate links
I seriously love my new hinged cooking grate and doubly love the searing grate. This has totally changed the way I cook steak on the grill. It has also given me more use for my up until recently ignored charcoal baskets. I wanted the grill nice and hot (fast too) so I used Kingsford over Heatbeads.
Check out the parts on Amazon with the links below.
Seared Rib Eye Steak Method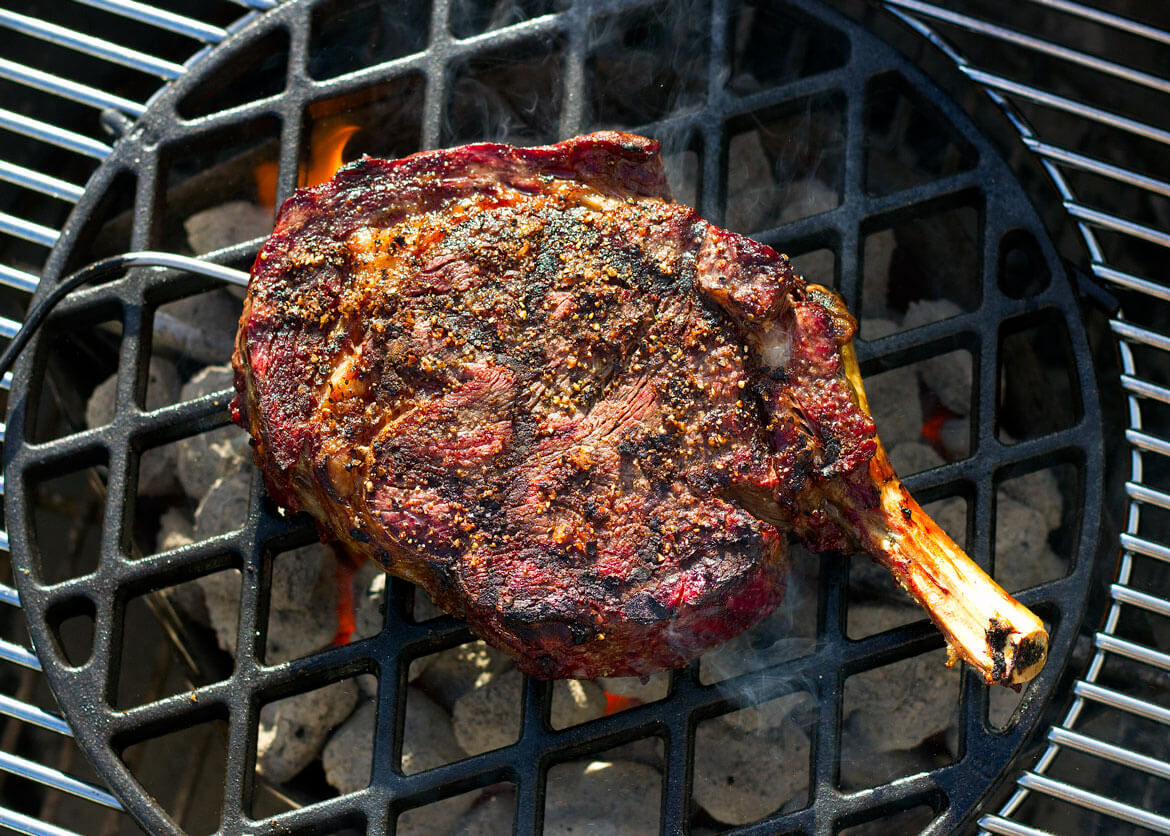 For a rib eye steak this big, and thick the only way to grill this thing is by using the reverse sear method. The intention is to cook with indirect heat and then finish off on the sear grate until it hits 54°C / 129°F for medium rare.
Fire up a full chimney of briquettes and dump evenly in charcoal baskets if you have them. If you don't just dump the lit briquettes in the center of the kettle.
Place the searing grate in its place over the lit briquettes and place the lid. Let the grill get to temperature for about 10 minutes.
When everything is hot and ready insert the digital thermometer probe into the rib eye steak and place on the outer edge of the grill and replace the lid with the vent over the steak. I let the steak cook using indirect heat until it hits about 46°C / 115°F.
Open the lid and move the steak over to the sear grate and sear both sides for a couple minutes each until the the internal temperature hits 54°C / 129°F.
This should get you a perfect looking steak. What do you think of this?
Rest it for as long as you feel like. Mine only rests for as long as it takes to sear some vegetables. Tonight was seared asparagus. Gotta get those greens in.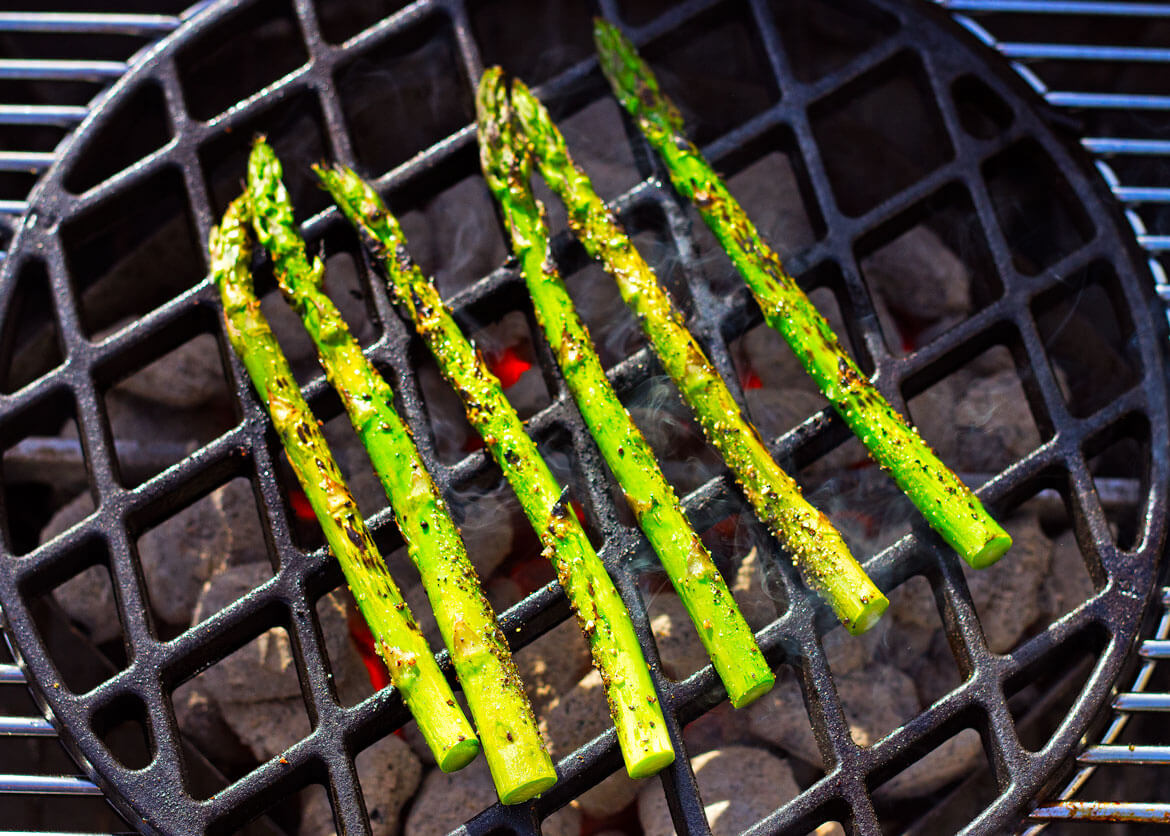 BEER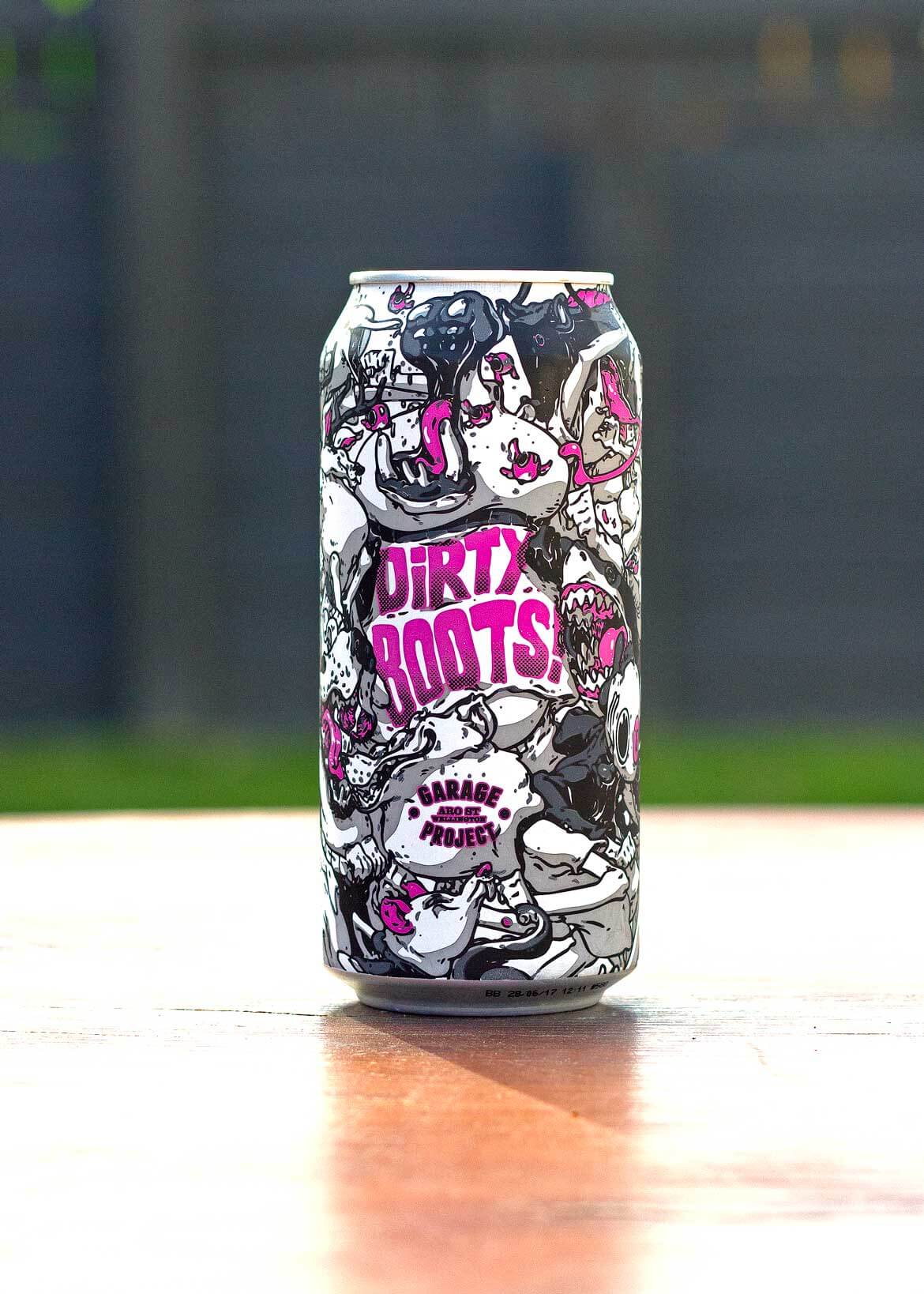 Reverse searing a rib eye steak this big can take almost 40-50 minutes.
This called for a big beer. This is Garage Project's Dirty Boots APA. Garage Project is a local Wellington brewery that started out in a garage with a small brewing kit that set out to brew 24 different beers over 24 weeks. Most were one offs, but as they've grown they now have a solid line up.
Dirty Boots is one of my favourites.
Brewers notes
Hop into the mosh pit. Dirty Boots, grunge inspired All American Pale Ale. Brewed with Simcoe, Mosaic and Equinox, especially for Music 2 Brew 2, a hard core, hoppy celebration of the tunes that inspire the beer we brew.
Conclusion & Recipe
Thick bone in rib eye steak reverse seared to a perfect medium rare seasoned simply with salt and pepper
You'll Need…
500 g Rib eye steak (bone in)
Salt
Pepper
Olive oil
Directions
Prepare grill for 2-zone cooking.
Rub steak with olive oil and season generously with salt and pepper, set aside and allow to get to room temperature.
Start with the grill at 225°F/110°C for low and slow.
Cook the steak with indirect heat until the internal temperature reaches 115°F/45°C, remove from grill and rest.
Get the grill blazing hot, add pre-lit coals and prepare for direct heat grilling.
Sear the steak directly over fire, no more than 45-120 seconds until the internal temperature reaches 130°F/56°C, remove from heat and serve immediately.
Additional Notes
Refer to https://bbqlikeitshot.com/reverse-sear-method-perfect-steak/ for more detailed instructions.
The trick is to cook the meat evenly using a low heat before searing it over an intense high heat. Good luck.
I hope you've enjoyed reading about my seared rib eye steak as much as I did grilling it and eating it. The grilling grate is such a fantastic addition to my line up and I can't wait to share more creations using it with you all.