This recipe for Skillet Chicken with Bacon & Mushroom sauce is a combination of long years of cooking on my part.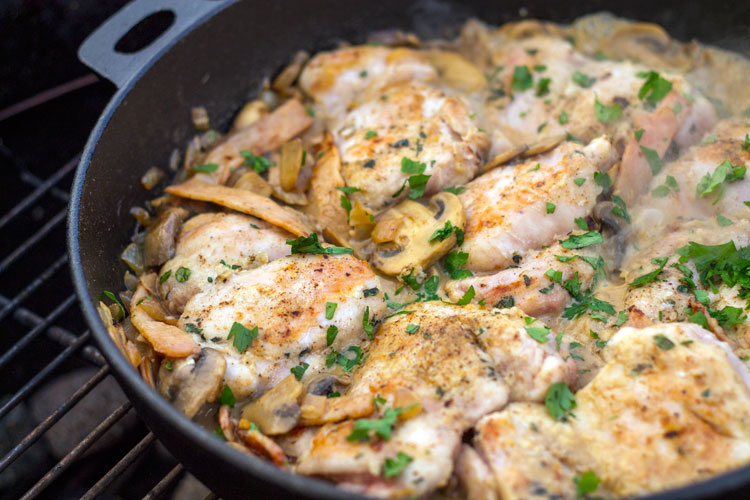 Surprisingly enough, in my younger years I had my first taste of cooking in the backyard over an old Masport gas grill. My staple was grilled chicken served with Wattie's Sweet Chilli Sauce and bread rolls. From there my love for cooking just carried on developing.
The first recipe I ever memorised by heart was a pasta recipe for a bacon and mushroom penne pasta.
I hope that you can now see where this is going.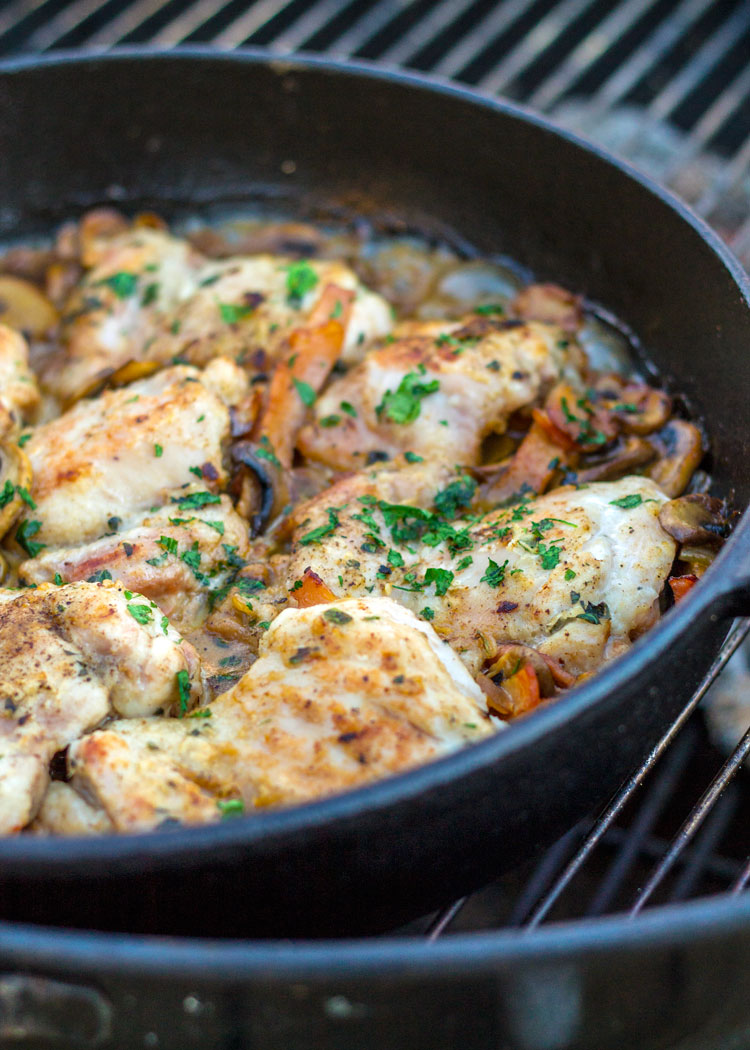 Best advice for this is to get the grill nice and hot, heat the skillet up with the lid closed while you prepare all the ingredients.
You'll Need…
250g middle bacon, sliced
8 free range skinless chicken thighs
¼ cup flour
2 tablespoons fresh thyme, chopped
Salt & pepper ground
1 medium brown onion, chopped
3 cloves garlic, crushed
250g white button mushrooms, sliced
¼ cup white wine
1 cup chicken broth
¼ cup fresh cream
1 tablespoon oil (rice bran, olive)
¼ cup fresh parsley, chopped
Directions
Prepare grill for indirect high/medium heat
Heat oil in cast iron skillet on grill over heat with lid closed
Prepare the ingredients while waiting for the grill and skillet to heat
When the skillet is nice and hot fry the bacon for around 5 minutes until cooked and set aside, add more oil if necessary
Mix thyme, salt and pepper with flour and coat chicken evenly and brown each side and set aside
Saute the onions for 6-8 minutes until soft and brown, add garlic and cook for a further 1 minute. Add the mushrooms and cook until mushrooms are brown and soft. Season with salt and pepper
Move the skillet to the indirect side of the grill and add wine and simmer for a minute, this should mostly evaporate. Add half the chicken broth and simmer for a further minute before adding the remaining broth, simmer for 2 minutes, finally stir in the cream and simmer for a further 6-8 minutes allowing to reduce slightly
Finally, stir in the bacon and add the chicken back to the skillet. Replace the lid and let the chicken bake for 20 minutes until cooked. Ideally the grill will be around 180°C.
Serve chicken on a warmed plate and top with bacon & mushroom sauce and garnish with parsley.
A loaf of freshly baked bread smothered in butter would go great alongside this dish.
Additional Notes
Best advice for this is to get the grill nice and hot, heat the skillet up with the lid closed while you prepare all the ingredients