This recipe for Chorizo Potato Hash came about when Sarah pointed out to me that when I cooked brunch on the grill almost a year ago that I claimed long weekends were for perfect for cooking brunch, and that I hadn't done so in a long time.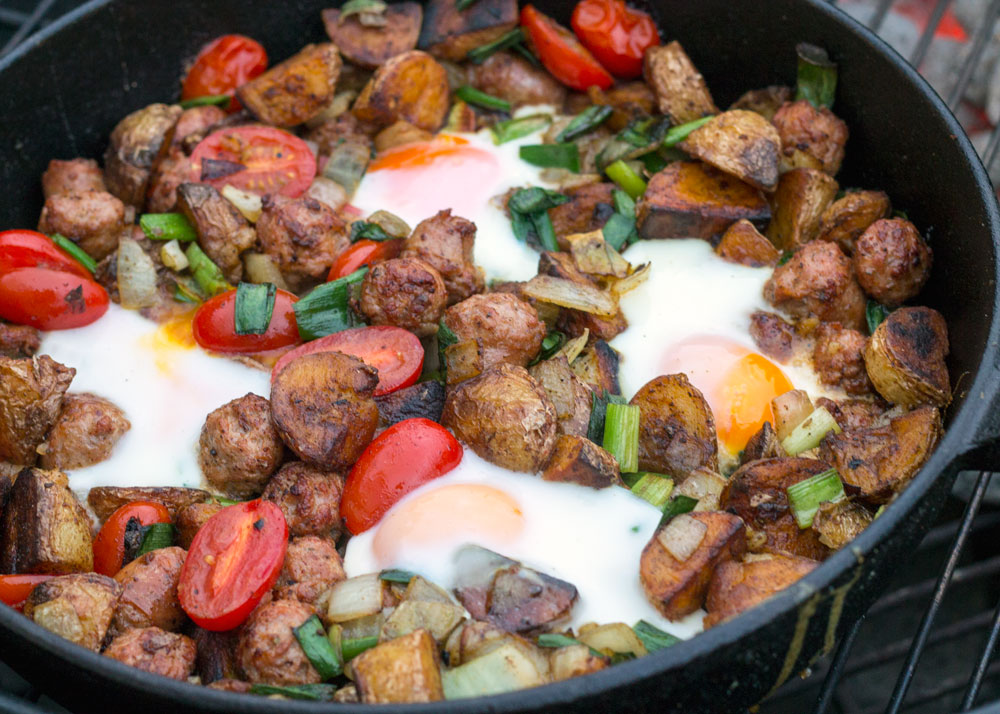 I had picked up some chorizo a couple days before and it was sitting in the fridge waiting for the perfect opportunity to be turned into something delicious.
Now, this was supposed to be brunch, but after returning from the gym on the Monday morning we were hit by the tail end of the storm that had been ravaging Sydney that week. Standing outside over the grill in torrential rain isn't very fun so brunch waited for lunch, which then turned into afternoon tea and finally there was a window of opportunity in time for dinner.
Now would be a great time to finish off our outside kitchen area on the deck. Maybe next weekend.
This is a dish that you would usually do on the stove and finish off in the oven. But you know that we don't really do that around here so of course we did it on the Weber.
The biggest tip I can offer for cooking this dish outside is to prepare all ingredients beforehand so that they are ready to go when they are needed, saves a lot of unnecessary stressing while you should be enjoying the cook.
It was a long day of waiting for the sky to clear briefly. The rain did catch me right before I managed to finish, not to worry as I finished with the lid on the kettle while the eggs were cooking. A perfect ending to the long weekend.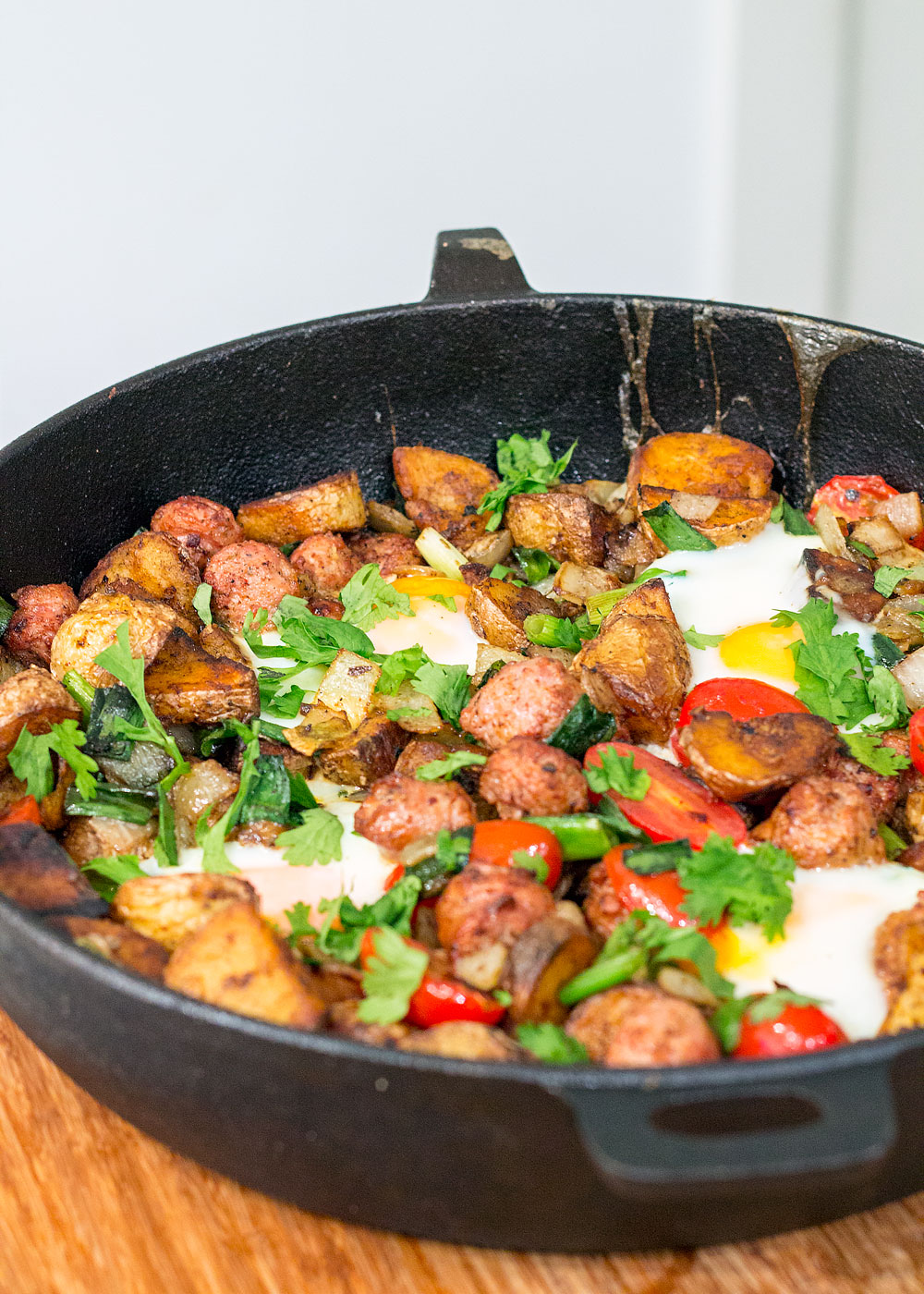 Chorizo Potato Hash cooked in a skillet over an open flame, the perfect brunch
You'll Need…
Chorizo Sausage
400g potatoes, washed and cut into 1cm bits
1 large brown onion
6 spring onions
250g Cherry tomatoes, halved
4 eggs
½ teaspoon mild paprika
½ teaspoon smoked paprika
3 tablespoons cooking oil
Directions
I recommend preparing all ingredients in advance
Prepare grill for high indirect heat
While grill is heating bring the potatoes to the boil in a pot, once boiling, reduce heat and simmer potatoes for 5 minutes, drain water and steam dry.
Once grill is ready heat 1 tablespoon oil in a skillet directly over heat. Cook chorizo for around 10 minutes until all sides are cooked and crispy. Set aside in large bowl leaving fat in pan.
Add 1 tablespoon oil to skillet, add potatoes cooking for around 20 minutes until dark brown and crispy. Season with paprika, salt & pepper cook for a further 30 seconds until mixed in. Add to bowl with chorizo.
Add remaining oil to skillet and cook onions for around 4-5 minutes until browned then add the spring onion and tomatos cook for a further 2 minutes. Add onions to bowl with chorizo and potatoes and mix together before adding back to the skillet.
Return ingredients back to skillet and move off of direct heat. Make four wells in the mixture for the eggs. Break one egg into each of the wells, season with salt & pepper replace lid and cook for 5-10 minutes until eggs are cooked to your liking. Cooking time will depend on temperature of kettle - watch carefully to avoid over cooking.
Serve immediately.
Do you enjoy cooking brunch on the weekends? Do you ever cook brunch on the grill? Let me know in the comments below.