This was my first ever go at smoking a brisket. Although it was a small piece it was a great experience and a great turn out!
We recently ordered a 10kg Bloom Box from Green Meadows Beef you can see below it is a lot of beef. On top of the steak and mince that we got in the pack I asked if they could arrange a brisket for me. No problems they said, you can see at the center top of the photo below a 3kg pure Angus beef brisket.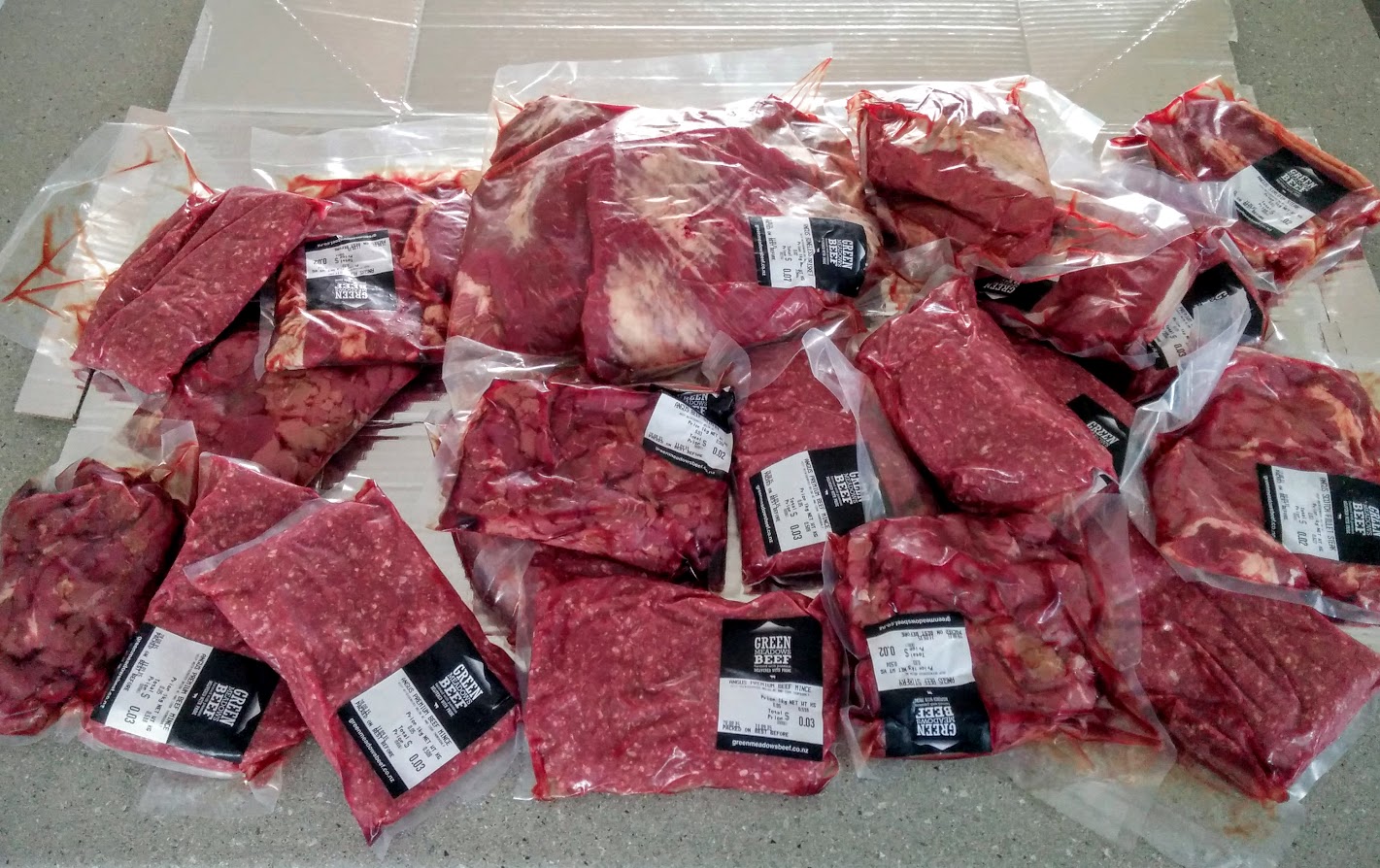 that's a lot of beef!
You would think, as enthusiastic as I am about barbecued and smoked meat that I would be doing a smoked brisket every other week. Wrong. I have yet to try a smoked brisket.
Finally with a 3 kilo brisket I was ready to take the plunge into Texas barbecue. My inspiration and guidance for the brisket comes from Aaron Franklin, apparently the king of Texas BBQ.
Prepare Your Meat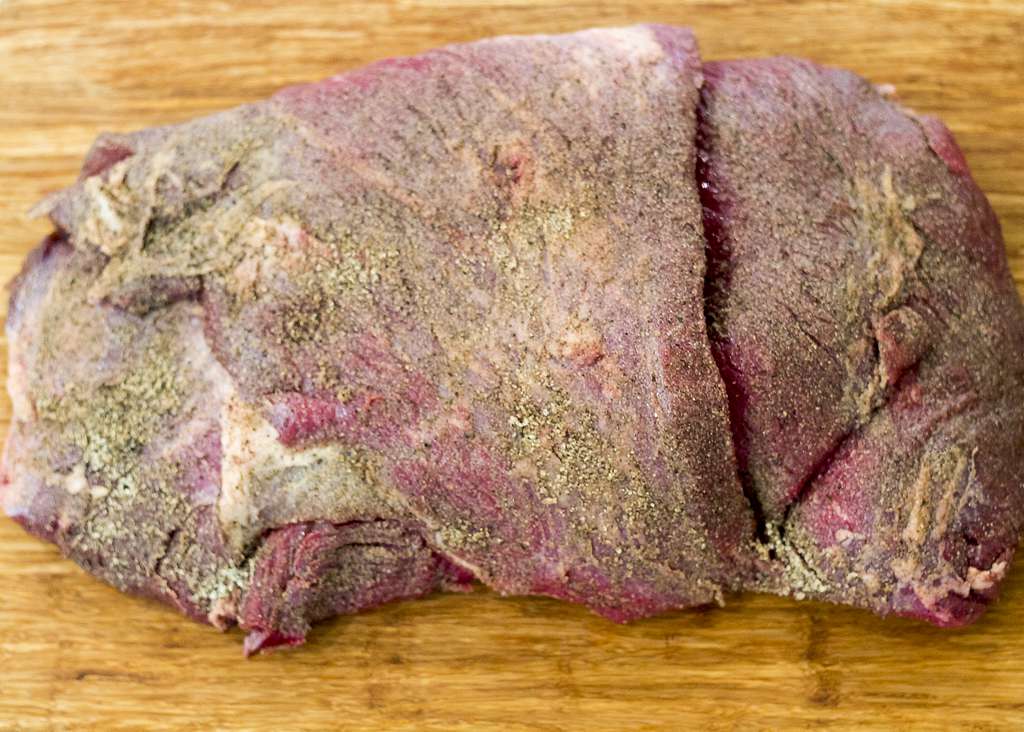 The butcher at Green Meadows was kind enough to cut the brisket and trim the fat for me. If you're looking to prepare a brisket yourself, the trick is to cut off most of the fat leaving a thin layer so as to not end up with a fatty brisket, nor a dry brisket at the end of the smoke.
Seasoning the brisket is easy. Franklin recommends keeping it simple with a very simple combination of 1/2 a cup each of salt and ground pepper.
I can't begin to explain this in writing – do yourself a favour and watch BBQ with Franklin: The Brisket on YouTube. It's a damn good watch.
Brisket is Barbecued Long and Slow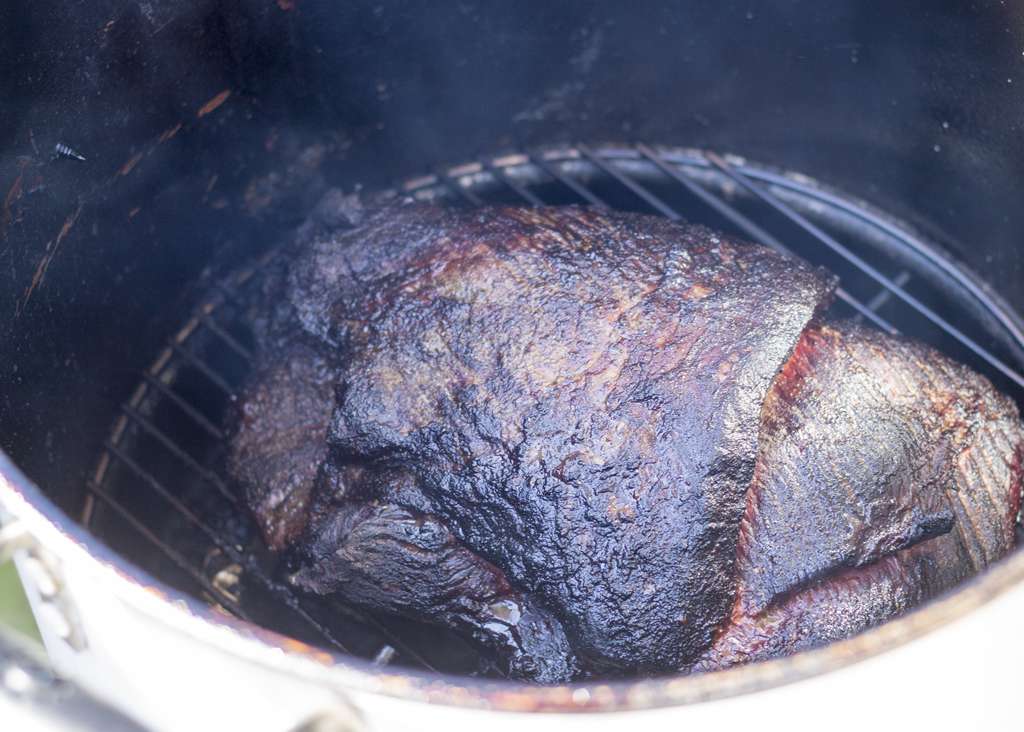 Just like the pork shoulder, smoked brisket is best done long and slow. Optimal temperatures being 110-120°C / 225-250°F. You can accomplish this a couple ways.
If you just have a kettle style grill you can use the snake method to convert your kettle into a smoker for the day. This would work great as you can lay out the briquette snake on one half of the kettle and face the fattier end of the brisket towards the heat and have a water pan underneath to keep the kettle moist and humid.
The way smoked this brisket was in my Smokey Joe Mini WSM. It was only just large enough to fit the brisket in without touching the sides, but I ran into issues with the ends getting a bit too burnt as they were very close to direct heat. The cool thing was I was able to have the mini hold the temperature at 120°C / 250°F for 12 hours and the centre came out fantastically tender, the burnt ends were soon forgotten.
My ideal way of smoking a brisket would be using an off set smoker like the one Franklin uses in his BBQ with Franklin: The Cook video. I really need to look into getting one of these as this would just put barbecue into cruise control.
Smoke wise I used apple wood and pohutukawa chips on top of the heat bead briquettes. I added more pohutukawa chips at the mid way point for a touch of extra smoke.
Beware of the Stall
Just like the pork shoulder the brisket will reach a point where it will sit at a certain temperature for a good few hours. My one hit about 75°C / 170°F and sat there for a couple hours. At this stage don't panic. If you're in a hurry you can wrap in butcher paper and put back in the smoker or just ride it out. I wasn't in any hurry so I just left it there and it went on its merry way. No harm done. Throughout the cook to keep the brisket moist I spritzed with a water spray bottle. I did this sparingly though to not lose the precious heat.
When is it Ready?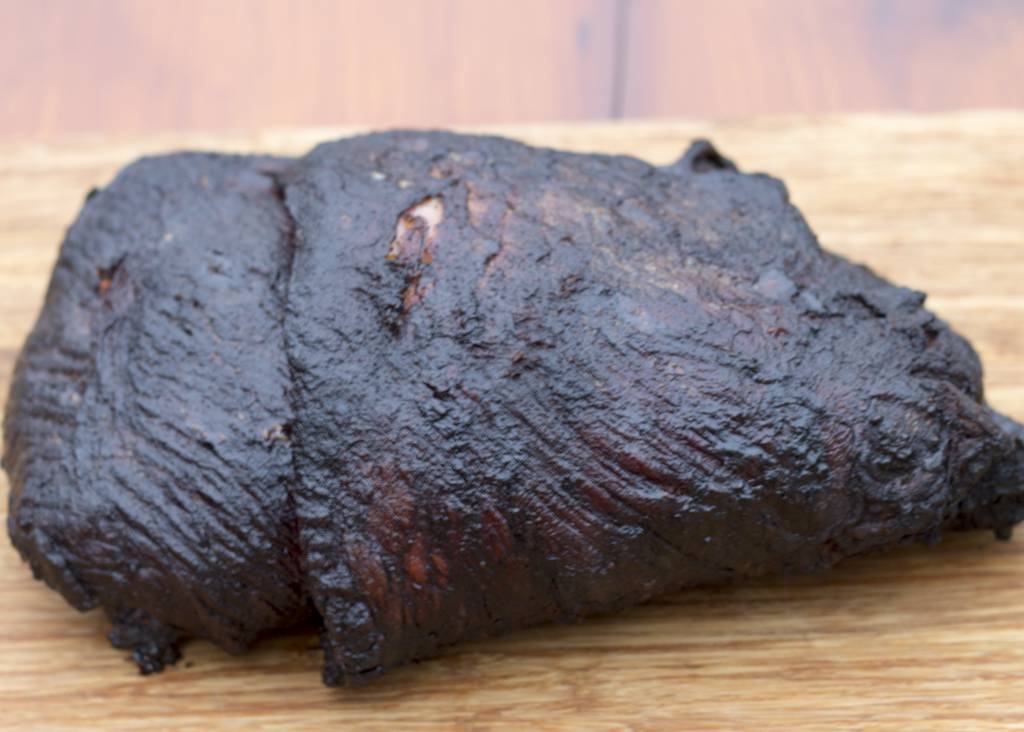 For the 3 kilo piece of meat after about 12 hours it was time to pull out of the smoker. The ideal temperature of when the brisket is done is around 96°C / 205°F. After 12 hours in the smoker the brisket will come out black, you might think it's burnt. It's not. If the smoker has done its job what you are seeing is a beautiful bark formed on the outside from the salt & pepper seasoning.
Pull it out and let it rest enough so that it doesn't burn your hands when it comes to slicing it up.
Serve it Up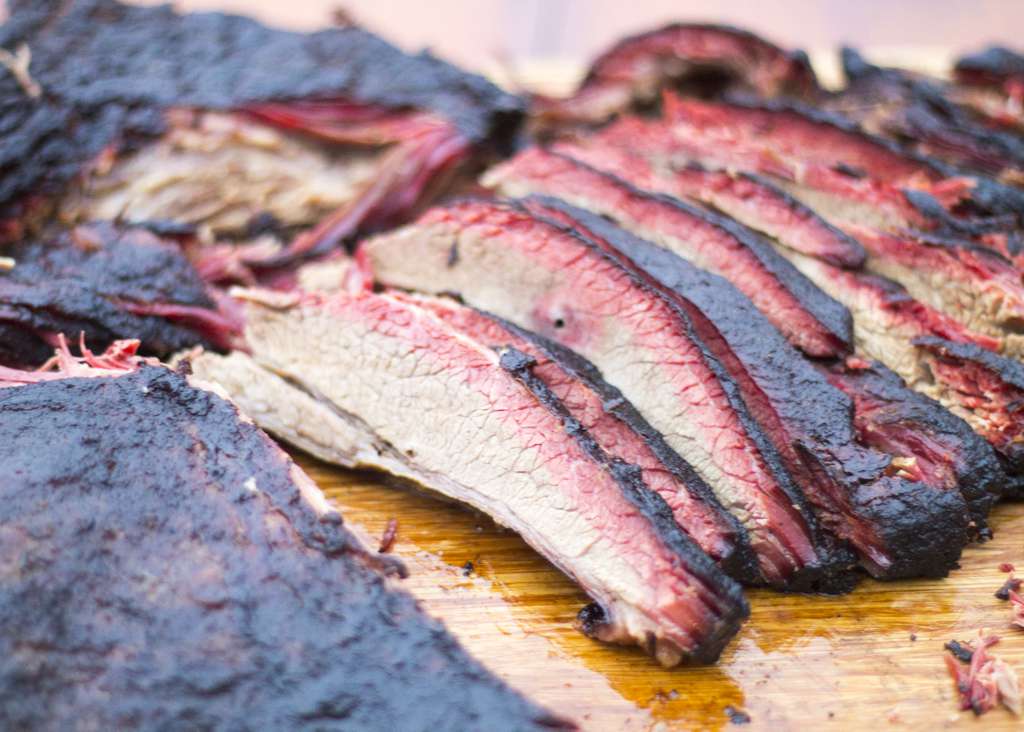 Finally the time has come to slice the brisket. Make sure that you have a sharp nice as it helps cut through the bark and not make a mess of the meat. I had a bit of trouble identifying the fat cap and all that that Franklin talks about in the videos but I was quite happy with the beautiful slices that I got and how it turned out. You can see the beautiful contrast of the bark and the smoke ring against the meat in the photo above.
The end result was kilos of delicious tender smoked brisket. Could I have done it better? I think that I could have with a larger smoker. I'm pretty sure that the larger Smokey Mountain (affiliate link) would do an awesome job and all the guys with Big Green Eggs and Kamodo Joes wouldn't have any trouble at all. I've got my eyes set on a cast iron offset smoker now.
For more in depth reading of smoking brisket make sure you grab a copy of Aaron Franklin's book which you can buy from Amazon and be sure to check out his series on brisket on his YouTube channel.