Winter is certainly settling in with noticeable extreme drops in temperature the past week. Unfortunately I got hit hard by the temperature changes and was taken mostly out of action by a rather nasty cold.
I needed something hot and spicey to combat this cold while not being too intensive to prepare or cook as I wasn't feeling 100% and needed my rest.
Again I turned to beer soaked chicken, this time with a lovely peri peri spice rub to give me that hot and spicy cold cure remedy.
My beer selection for this recipe was a bottle of Panhead Custom Ales Supercharger APA. This American styled pale ale is highly hopped with a dry bitterness and comes in at a lovely 5.7% ABV. Seeing I was not in any state to drink a bottle of beer, I decided the best course of action was to incorporate it in my food.
The preparation work for this recipe is easy, coat your chicken with the peri peri spice rub, add to zip lock bag and cover with the beer and leave to soak for 4-8 hours. Remove the chicken and coat again with the peri peri and then bake until it's cooked! Simple.
This can be done in the Weber or the oven, I against my best interests did this one in the oven due to obvious reasons. There are issues with chicken breast drying out when baking it but having it soaked in the beer all day negates this and the chicken will come out nice and juicy.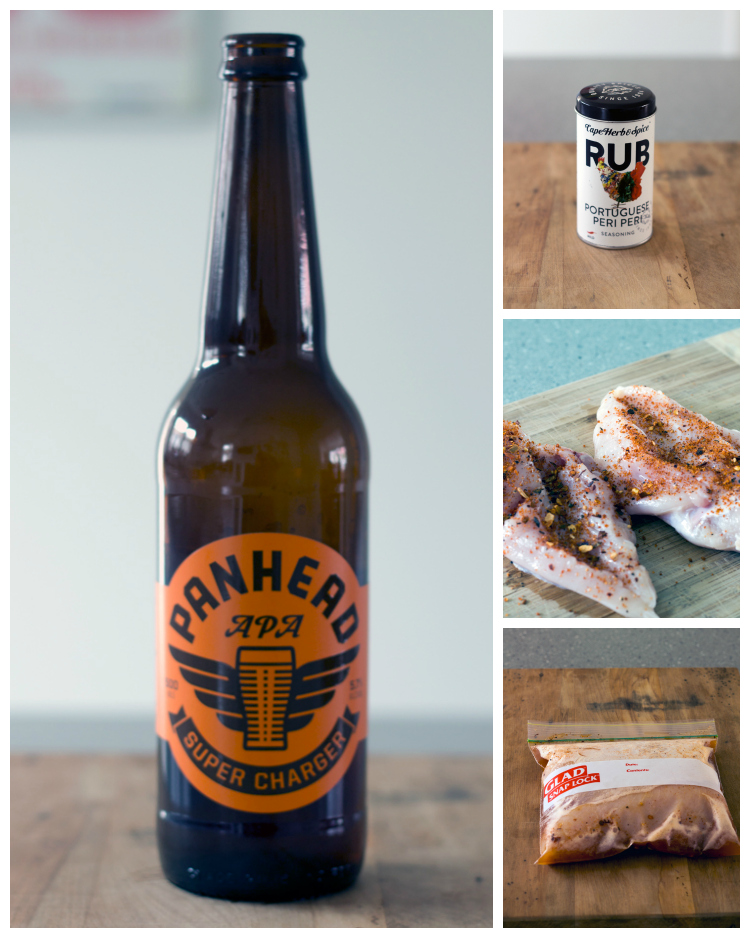 When I get back on my feet I will give this a blast on the Weber and share with everyone.
Chicken breast soaked in Panhead Supercharger APA beer coated in peri peri rub before being baked on the grill
You'll Need…
500g chicken breast, free range
1x 500ml bottle american style pale ale
Peri peri spice rub
Directions
Clean the chicken, coat with peri peri spice rub and cover with beer in zip lock bag, leave for 4-8 hours
Drink remaining beer
!On the barbecue
Prepare barbecue for indirect medium heat, 180°C
Remove chicken from bag and discard marinade and coat again in peri peri spice rub
Place breast side down over drip tray in barbecue and bake for 30 minutes until cooked, flipping once at the 15 minute mark
!In the oven
Pre-heat oven to 180°C on fan bake
Place chicken breast side down on baking paper on an oven tray and bake for 30 minutes until cooked, flipping once at the 15 minute mark