The last time I shared a glazed ham recipe was a couple years back for Easter. The recipe was fairly simple as I used a sauce from a jar along with cloves and pineapple slices. I shared this recipe because this is what my mum had been doing to prepare hams for years prior to me ever giving it a go myself. Since then I have developed a new glaze but still the same method of cooking on the Weber.
Now, if you've come across this post looking for a Christmas ham recipe and you don't have a Weber or don't intend to cook your ham on a BBQ, don't worry. This method is easily done in an oven, the temperatures and instructions remain the same. If you have a gas grill or a kamodo style smoker, don't worry – it's all the same. Just give it a go and let me know how you got on.
Glazed Ham for Christmas
Glazed ham for Christmas is a classic New Zealand Christmas dish. I've got fond memories of ham on Christmas Eve, then left overs for breakfast on Christmas day and the for lunch up until New Years Eve and then it was another freshly cooked ham for dinner New Years Eve and then left overs well into January. Ham mania.
BBQ Setup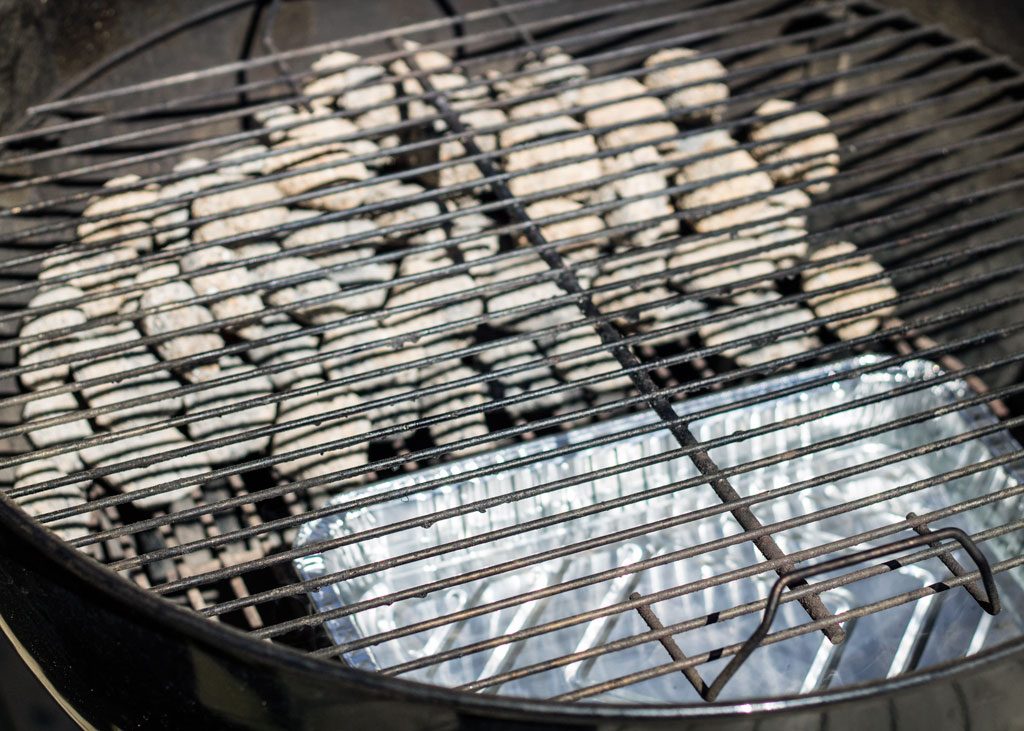 There's really not much to it. In the Weber, grill setup is 2-zone for indirect cooking. Either bank the coals to one side or coals either side of a drip tray, both work fantastic. If you're using a smoker then you really have one option, so you know what to do.
For this cook I went for the coals to one side two zone setup. I added a foil tray to the indirect side with boiling water to keep some moisture in the kettle during the cook in the hope that it will help the ham from drying out.
The Glaze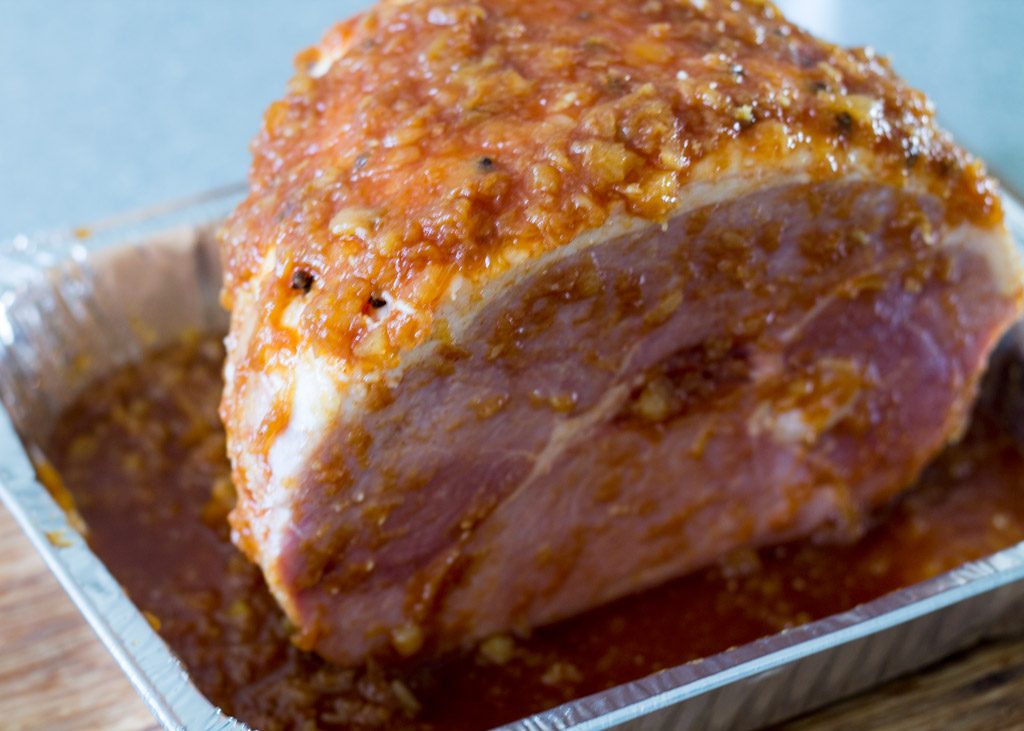 While the grill is getting to temperature I prepared the glaze. For glazed ham recently I've been using a recipe from dish. It's pretty good, and uses pineapple as part of it so you don't have to attach pineapple rings to the exterior of the ham, even though grilled pineapple is pretty good. So you might want to try some pineapple rings on a cedar plank.
So back to the glaze. While the coals are firing up, head back into the kitchen and get all the ingredients mixed together in a pot over the stove top and give it a simmer for a couple minutes, the sugar will dissolve and you will have a semi thick liquid ready to coat the ham with.
Cooking the Ham on the Weber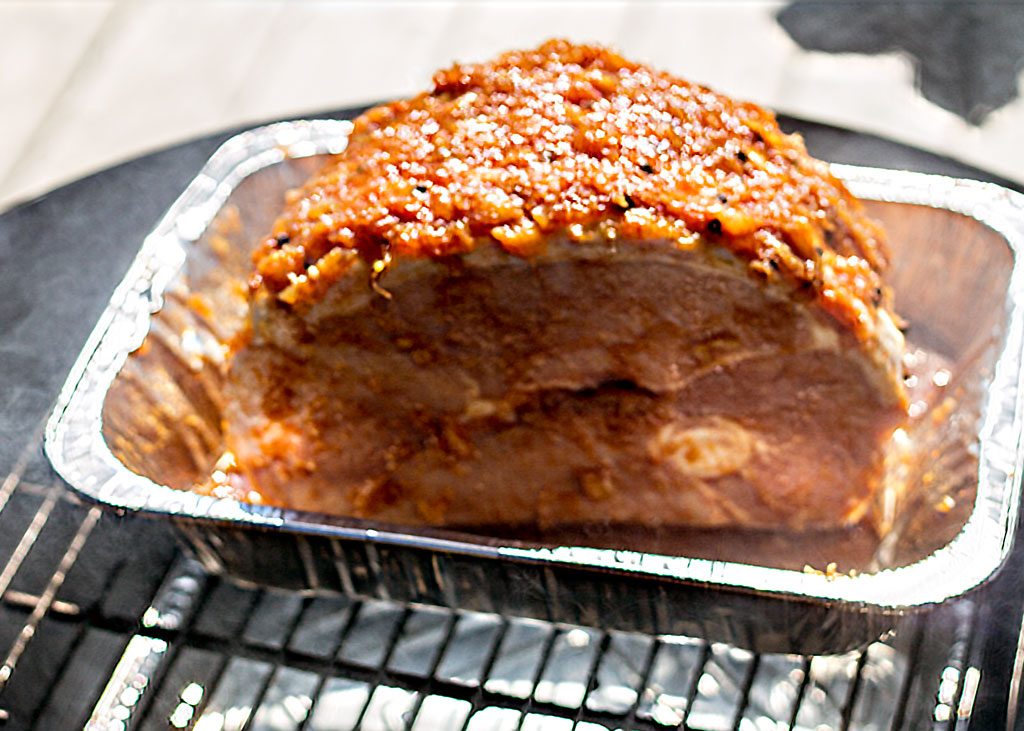 Once the glaze is done move the ham to a foil tray and coat with the glaze using a spoon or a brush. The grill should be at the right temperature by now, am for 160°C / 320°F Place the ham in the tray on the indirect side, throw a couple hand fulls of wood chips onto the fire and close the lid. Now its a matter of heating the ham through to an internal temperature of 60°C / 140°F – now cooking time will vary depending on the size of your ham. The ham I used here was 3.5kg and took about 2.5 hours to hit the temperature. While it was cooking I popped the lid every 20 minutes or so to spoon the glaze over the top of the ham again. It eventually forms a thick layer over the fat. Now, while part of the ham that is closest to the fire might crisp up a little, if you keep the kettle temperature to 160°C / 320°F you won't run the risk of burning your glaze, if you're worried a little, start by smoking the ham by itself for the first 30 minutes and then add the glaze.
Ready to Serve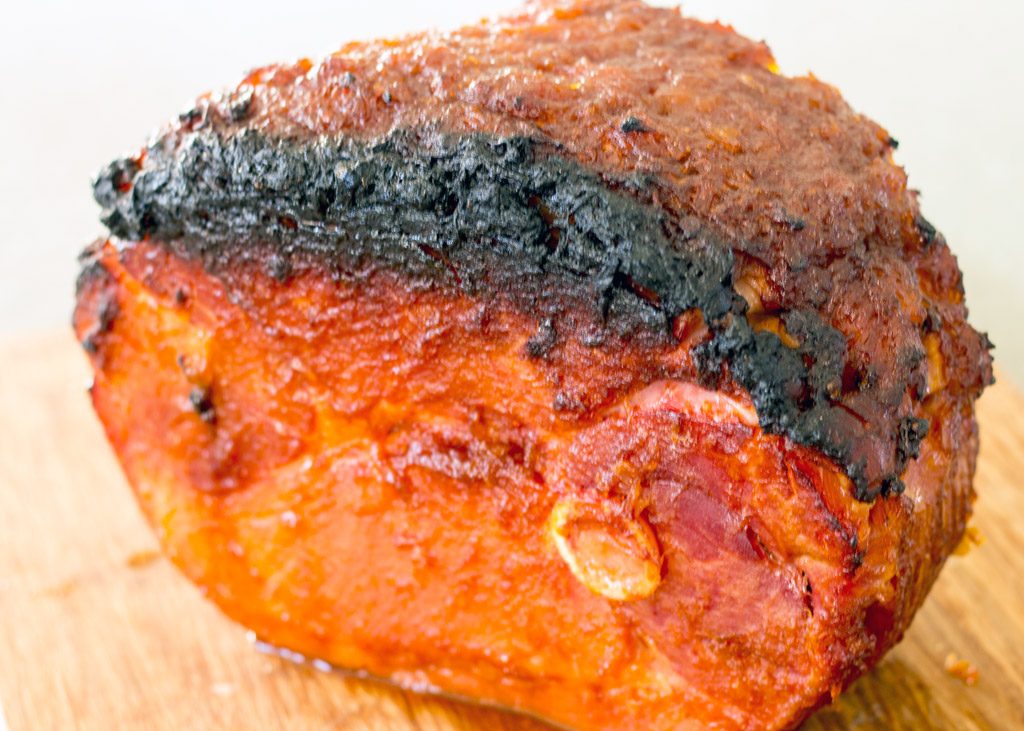 Once the ham hits that magical number its time to remove from the grill. Be careful as the glaze as well as the ham will be hot to touch, not to mention sticky. Bring inside and carve immediately with a sharp knife and serve while its still warm. To serve alongside, try potato salad and maybe some planked asparagus.
If you've read this far and followed along with my guidelines I'm sure that you'll have a great ham for Christmas. I know I will. Let me know how you get on in the comments.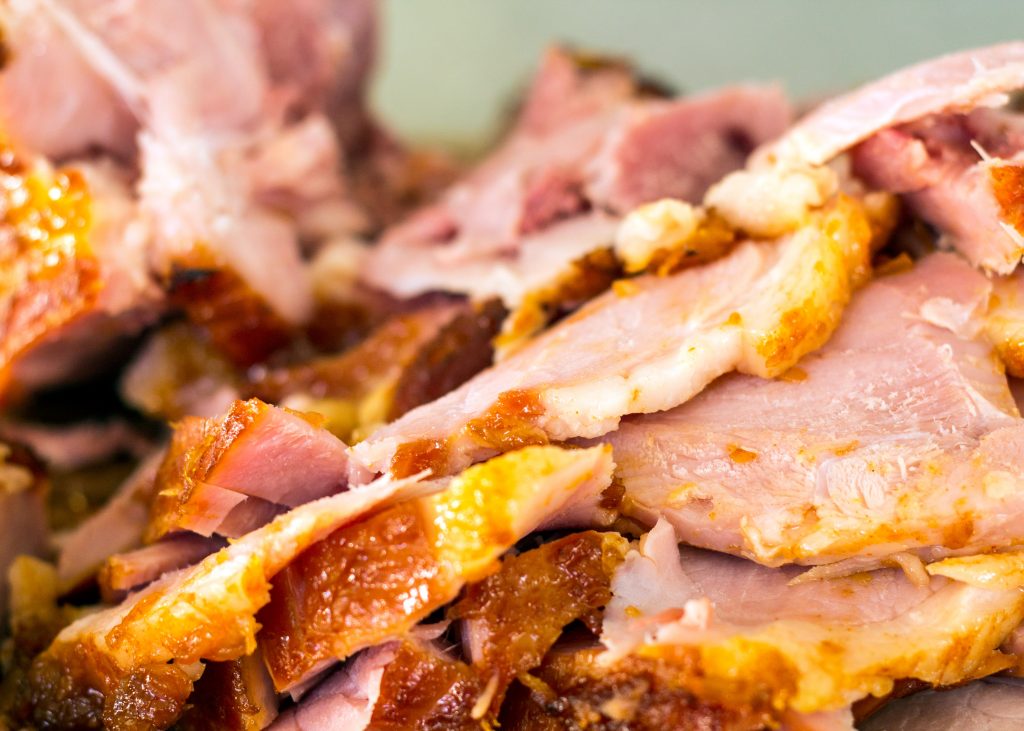 You'll Need…
1 can (400g) crushed pineapple in juice (not syrup)
1 cup orange juice (no pulp)
2 cloves garlic, crushed
1 tsp smoked paprika
2 tbsp Worcestershire sauce
1 tbsp English mustard
2 tbsp tomato paste
1 cup brown sugar
Cayenne pepper, to taste (adjust to your liking)
Cloves
1 pre cooked leg of ham
1 foil tray
Directions
Bring together all ingredients for the glaze in a suitably sized pan and bring to the boil. Stir to dissolve the sugar before simmering for 5 minutes. Remove from heat and allow to cool.
Prepare grill for medium indirect heat, 160°C / 320°C
Use your fingers to remove skin from ham leaving a thin layer of fat. Score the fat in a diamond pattern and insert cloves in the intersections.
Place ham in foil tray and cover with glaze. When grill is at temperature place ham and tray on the indirect side of the grill, add a couple chunks of wood for smoking and replace the lid.
Baste the ham with glaze every 20 minutes, until the ham reaches an internal temperature of 60°C / 140°C. Remove from grill and allow to cool before carving.