The Wrath of Angus Burger is the end result of purchase of the KitchenAid Food Grinder and the subsequent meat patties that followed. I am a big fan of burgers and when dining out at restaurants, if there is a burger on the menu I am going to try it. This will serve as the first post of many burger related posts to come. I'll take you through step by step in creating this epic burger.
Making the burger patties
First thing to do is grind your own Angus beef patties. I of course used Green Meadows Beef casserole steak for this burger, each pattie was weighed out to 230g each. Instead of using coriander to the mince mixture I used a finely diced onion.
Roll the mince mixture up into a meatball and set aside until right before you are about to cook. When shaping the meatball into the burger pattie, make it so it is slightly larger than your burger bun as it will shrink a little bit when cooking.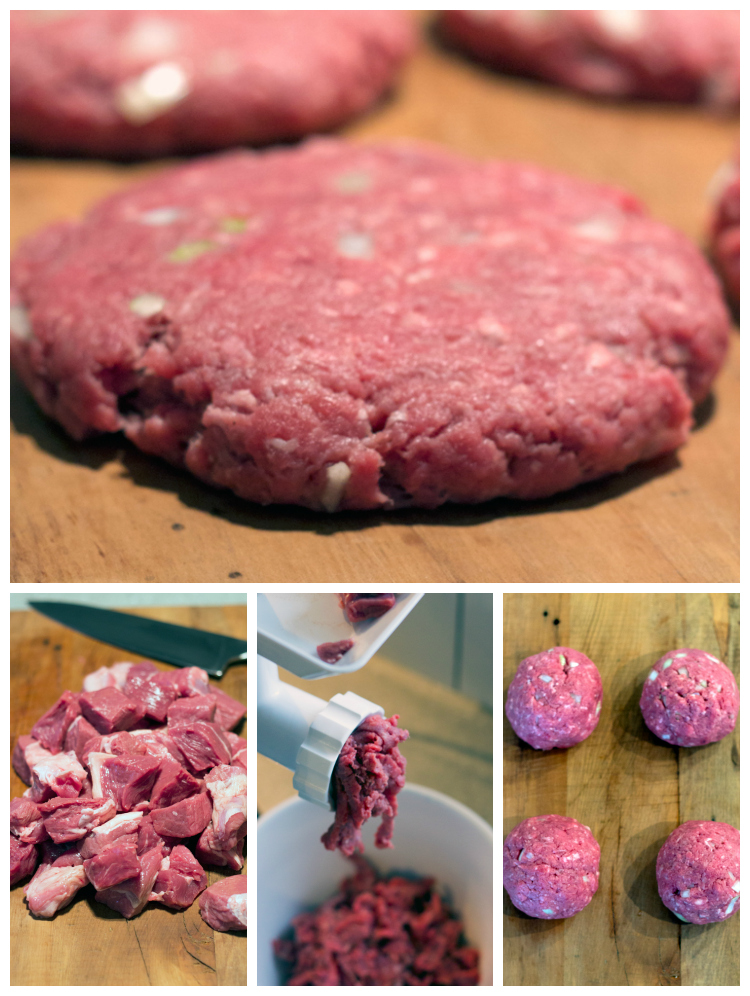 Grilling the burger patties
These Angus burger patties at 230g are large! Bigger than most pieces of steak large. These patties are done when the internal temperature hits 71°C, there should be little to no pink in the middle with a light brown colouring. For best results I use the reverse sear method for grilling the patties.
Prepare your barbecue for indirect medium heat, the patties should be placed on the indirect side over a drip tray. Throw some wood chips on over the coals and cover with the lid with the vent holes over the patties. I used hickory wood chips. Check on the patties after 10-15 minutes and flip them and replace the lid, they should only need another 10 or so minutes before they reach 65°C. I keep an eye on the temperature at this point with an instant read digital thermometer, if you don't have one you can use the food probe of a Maverick for example for the duration of the cook. At 65°C remove the lid and move the patties over to the direct heat side directly over the coals and sear each side for 2-3 minutes. During this searing the internal temperature will hit 71°C and they are done, remove from heat and set aside to rest while you toast the buns This step is totally optional. I like my burger buns lightly toasted so once the patties have been removed I like to place the burger buns bread side down and lightly toast for about a minute. They should be a light golden colour and not burnt.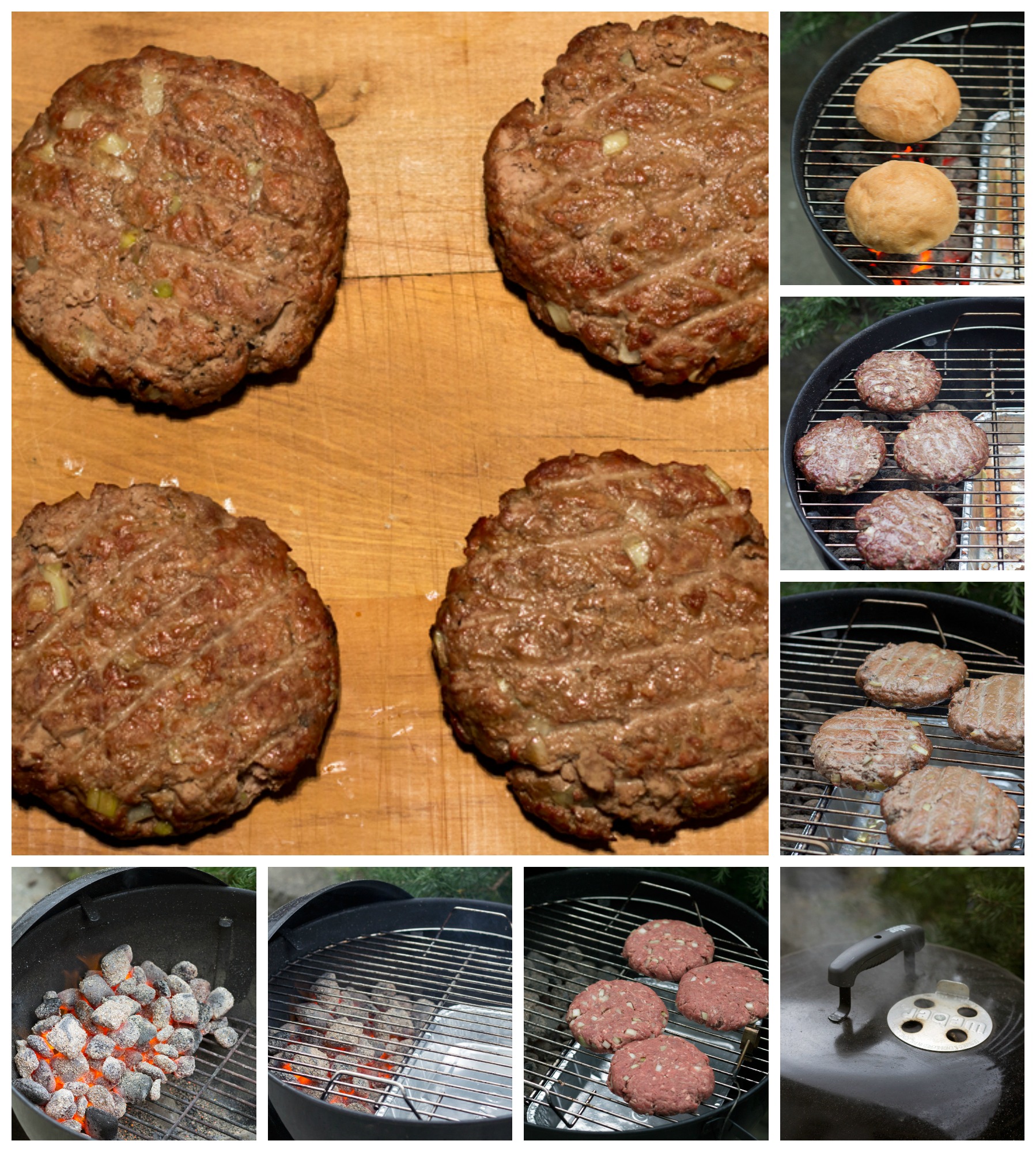 Constructing the Wrath of Angus Burger
Burger construction is an art form. Burger bun selection is important,  a soft lightly dusted  with flour or sesame seed bap style burger bun is my favourite, I have used a selection from Ponodoro Bakery for the Wrath of Angus Burger. Begin by spreading mayonnaise on the bottom bun and top with a fresh cos lettuce leaf. Next comes the tomato ketchup, cover the lettuce delicately before adding red onion rings. A few tomato slices later, make sure you season lightly with salt and fresh ground black pepper. The star of the show is next, place the Angus beef pattie on top. Here you might want to add some cheese, a couple slices of aged cheddar works fantastic (if you prefer your cheese melted add the cheese during the last part of searing while cooking), and finally the top of the burger bun, you may like to add some more mayonnaise. The final product of your labour over the last couple of hours is a burger of mammoth proportions that will be a challenge to wrap your mouth around. Time to dig in! Serve with Beer Soaked Fries or crinkle cut fries dusted with smoked paprika, a glass of coke or your favourite beer. Enjoy.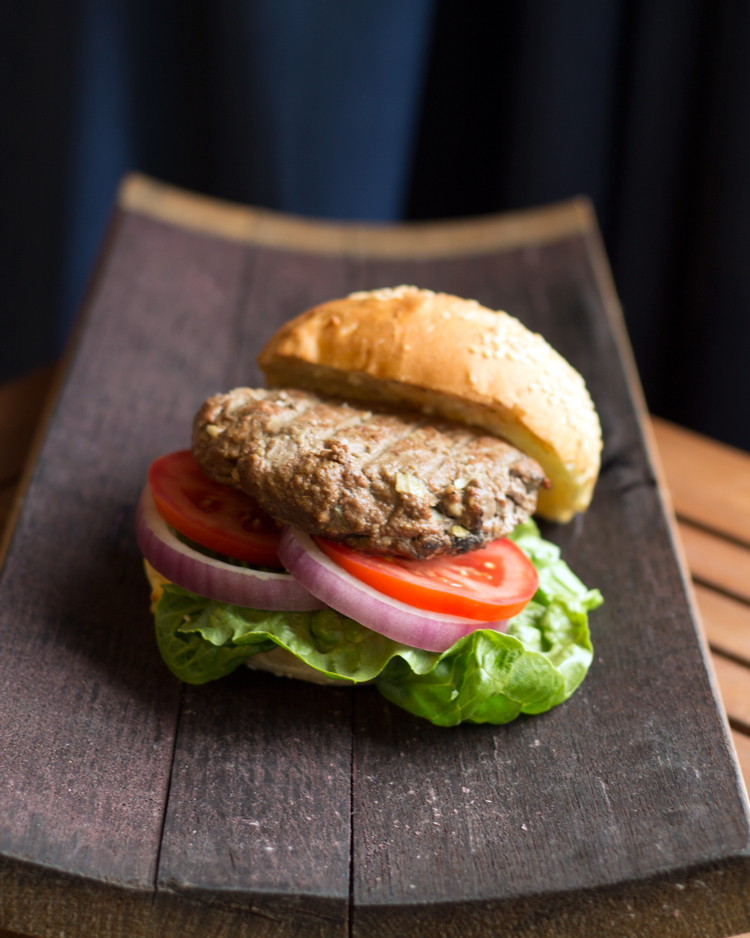 The Wrath of Angus Burger is constructed with 100% grass fed Angus beef, fresh cos lettuce, vine tomatoes red onions and freshly baked burger baps grilled over open flame on a Weber barbecue.
You'll Need…
4x 230g Angus beef patties
4x Fresh baked burger buns
Fresh cos lettuce leaves, washed and dried
Fresh vine tomatoes, sliced
Fresh red onion, sliced
Tomato ketchup
Mayonnaise
Salt & fresh ground black pepper
Directions
!Barbecue Setup
Prepare the barbecue for Indirect medium heat
!Cooking the Burger
Prepare 4x 230g burger patties using 100% pure Angus beef mince, grind your own if possible
Cook the patties for 10 minutes each side over the indirect side of the barbecue
As soon as internal temperature reaches 65°C move directly over coals and sear each side for until temperature reaches 75°C
Add cheddar cheese during last part of searing
Lightly toast burger buns once patties are removed
!Constructing the Burger
Begin by covering the bottom burger bun with mayonnaise
Stack in order, cos lettuce, tomato ketchup, onion and tomato slices and season with salt and pepper
Complete the burger by adding the pattie, cheese and finally the top of the burger bun
Serve immediately with a side of fries